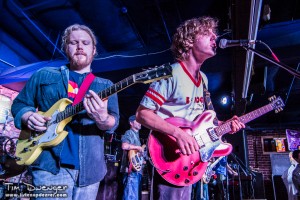 Photos by Tim Dwenger
Last Friday night two of Denver's best Rock bands teamed up for a great cause: The Nathan Yip Foundation.  Before they got Stoney's rockin', the night started out with some background on the foundation and the great work they are doing around the world to provide educational access, empowerment and ongoing support to vulnerable youth throughout the world, giving them the tools to become productive, contributing citizens within their communities.
After we were all educated a bit The Congress kicked things off with a powerful set of music that drew on their expertly written originals and a handful of covers from their recent EP The Loft Tapes.  They welcomed Denver-by-way-of-Mississippi Bluesman Robby Peoples to the stage for a Peoples original, and then, in a foreshadowing of things to come, they invited Fox Street drummer Eric Low to the stage for a few tunes including a scorching version of "Walls."  After about an hour, the boys on stage were wiping sweat from their brows as they yielded the stage to Low's band for a set that featured the Fox Street Denver debuts of "Left of Right" and "Justified."  Everyone in the room was dancing and when frontman Skippy Huvard stepped to the mic and invited all four members of The Congress to the stage, things got even wilder.  The 11 musicians charged through a ridiculously fun mini-set that included two crowd pleasers by The Band: "The Shape I'm In" and "The Weight" as well as another appearance by Mr. Peoples.
Stoney's was definitely the place to be on Friday night and if you weren't there you missed out on something special, not only was the music fantastic but the cause that it was all raising money for is as well.  If you didn't donate by buying a ticket, maybe you can find it in your heart to donate through this link.
Music has always been a part of my life. It probably all started listening to old Grateful Dead, Peter Paul & Mary, and Simon & Garfunkel records that my parents had, but it wasn't long before they were taking me to concerts like Starship, Crosby, Stills & Nash, and Huey Lewis & The News. I got the bug to write about music after reviewing an Eric Clapton concert for a creative writing project in high school but didn't really take it up seriously until 2002. Since then I have published countless articles in The Marquee Magazine and done some work for Jambase.com, SPIN Magazine, and various other outlets. I started Listen Up Denver! as a way to share the music information that is constantly spilling out of my head with people who care. Please enjoy!