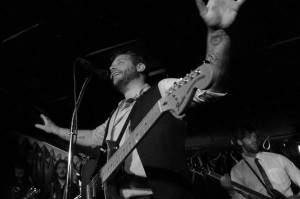 Why You Should Go: Nathaniel Rateliff's music is rooted in a bygone era. It's both fresh and classic, imbued with a melancholy nostalgia, the rough candor of Rock and Roll's past and the warmth and earnestness of Folk storytellers. Rateliff has a personal connection to the sounds of the 60s and 70s. "It was more about songs, and not about an industry," he says. "It was about a movement, not about making money. I think we're moving back into that again. There's still an importance in actually writing songs again. People are interested in hearing things that make sense."  Rateliff is at home in what may be called, for lack of a better term, the Neo-Folk revival. His voice is so confident that you can occasionally imagine the music dropping out entirely only to be propelled solely by Rateliff's a capella strengths.
This will be a release party for the new Nathaniel Rateliff album Falling Faster Than You Can Run and it will be extra special because there will be an after-party on-site at the Gothic featuring Nathaniel Rateliff and the Night Sweats! While Rateliff may be best known to you for his Indie-Folk sounds, this new outfit that he is rocking with, The Night Sweats, is pure power R&B/Soul. This may be the only time the Folk band and the Night Sweats share the same bill, so don't miss this one!
Venue: Gothic Theatre – 3263 South Broadway, Englewood, CO, 80110
Doors: 8:00 PM
*Price:
Adv – $15.00
DOS – $20.00
PURCHASE TICKETS
*All times and prices are gathered from other sources and I am not responsible for mistakes or inconsistencies. They are intended only as guidelines. Please, always call the venue if you desire the most accurate information possible.