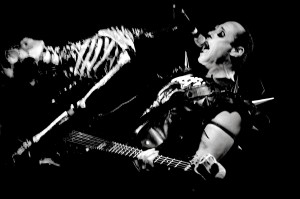 Photos by Johne Edge
The Scene: Outcasts of all ages came out to Summit Music Hall on Wednesday night, all with the same thought: new Misfits is better than no Misfits. The 35-year-old band might as well be called Misfit now, as only one member of the band's original lineup remains with the group, Jerry Only. The fans, known as "fiends," didn't seem to care, people from ages 16-60 showed up to support the band, and baldheads (male pattern, not skinheads) were abundant.
The unspoken (usually) rule of Punk Rock is that you do not wear the shirt of the band that you are seeing. Apparently Misfits fans were not aware of the rule, or just didn't care. Kids showed their support for the band by wearing their oldest ragged Misfits shirts, back patches, skull face masks and a few painted their faces to look like the trademarked Crimson Ghost.  There were a few Mohawks, the best worn by two young girls who danced together in the front,  surrounded by a crowd studded with freshly dyed jet black hair and pin-up types wearing the standard black attire.
Opener: Plan-B Rejects. Denver local band Plan-B Rejects started the show right, staying away from their Ska tracks, playing instead their hardcore tracks off of their self-titled EP, including "Wayward" and "Breaking Point." They performed two covers, Rancid's "Dead Bodies" and "Full Circle" by The Virus. The venue had not filled up yet, so the mosh pit in the middle of the floor was rather large.  Plan-B singer, Tom Tarrant, got the crowd amped for with the anti-cop song "Stop & Frisk," a perfect beginning to a great night of music all around.
Second Act: Straight Outta Luck. Another Denver band, Straight Outta Luck is not your typical Punk outfit. Natalie McFall (a girl), plays guitar. The drummer, Erik Landgren, also sings backup vocals–drummers rarely sing backup in Punk rock, mainly because they are too busy going ape-shit to carry a tune, but Landgren managed to do both quite well. The band played several songs off of their self-titled EP, as well as some unreleased songs, including "Usual Suspects," "Broken System" and "Easy Target." By that point, the floor had started to fill up, the moshpit tightened up and kids started grinning in anticipation of the main event.
Third Act: The Attack. Out of Orlando, Florida, The Attack rounded off the opening acts with an old-school Punk/Hardcore sound. Singer Charlie Bender's voice is meant for fame–the kind of screaming voice that rock legends are made of–he's something of a Punk Rock Steven Tyler.  The Attack played a great set, the band sounded polished, and Bender successfully warmed up the crowd, a difficult task considering it was mostly made up of aloof characters that are usually disinterested in everything. Bender completed his task without too much effort, and said goodnight to Denver, giving shout outs to all of the bands, and expressing their thankfulness to be touring with the legendary Misfits.
Misfits:  The Misfits show was quite the performance, before and after the set they played an eerie soundtrack, at one point before the show, fans chanted "Only, Only, Only," excited to see the last remaining member of the Misfits to perform. Instrumentally, the band was spot on. Composed of three members, Jerry Only on lead vocals and bass, Dez Cadena (formerly of Black Flag) on guitar and the newest member, Eric "Chupacabra" Arce, who has been with the band since the 2011 release of The Devil's Rain on drums.  Arce's drum kit sat upon a riser about three feet off of the main stage. The fog machine was set to max, and Only and Cadena's microphones were decorated with skulls and life-size skeletons. There were totem-pole style statues with skulls carved into them, and a large banner of Only's face promoted the band's 2013 release DEA.D. Alive.
The setlist was long and varied; they played for over an hour and a half and included songs from every album (except for the cover album Project 1950) including a great version of "Science Fiction/Double Feature, " off their latest release, which is a live album. They played many personal favorites, including "We Are 138," "Scream," "I Turned Into A Martian," "TV Casualty" and a sped up version of "Hybrid Moments." Cadena's voice was a saving grace, Only is older now, and his voice, which has never been high quality has deteriorated with age, so Cadena's backup vocals were the only semblance of the Misfits trademark horror Rock sound. It was nice to see the band before they inevitably stop touring, however, it was at moments painful to hear Only's voice attack old favorites. The show ended with a crowd favorite "Halloween," and after the show Only climbed offstage and hugged fans and signed autographs along the front row for about ten minutes–a rarity at a Punk show, it served as a token for the fans who yelled out at the end for an encore that never came.
Energy: A+
Musicianship: B+
Sound: D
Stage Presence: A+
Set/Light Show: A
Overall: B
I have been working in the music industry for over three years as a DJ (DJ Pecas) for GreenLight Radio in Boulder since July of 2010. We are pirated on the FM dial at 97.1 FM and broadcasted online at greenlightradio.com. During the past three years I have attended countless shows and hope to continue to do so!