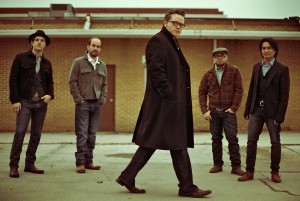 Why You Should Go: Here We Rest, the new record from former Drive-By Trucker Jason Isbell and his band The 400 Unit, carries with it a darkness that on one level reflects the dire economic state of the deep South, and on another simply reflects the kind of writer that Isbell is, and has been for most of his career. While his concerts tend to be the kind of beer swilling, whiskey drinking affairs that lead to some serious hell-raising, the subject matter of his songs tends to be pretty serious but don't let that scare you away; they are some damn good tunes.
The last few times Isbell has come through town he's stopped at The Bluebird, so the intimacy of The Larimer will be a welcome change for fans.  The gritty feel of room pairs well with Isbell's country tinged barroom rock.  It's sure to a packed house and the band is almost sure to break out a few choice covers during their set.  Even if his music isn't necessarily your thing, it's sure to be a good time at a great little club.
Venue: Larimer Lounge, 2721 Larimer Street, Denver, CO – 303.291.1007
Doors:
8:00 PM
*Price:
$17.50 (ADV)
$19.00 (DOS)
PURCHASE
*All times and prices are gathered from other sources and I am not responsible for mistakes or inconsistencies. They are intended only as guidelines. Please, always call the venue if you desire the most accurate information possible.

Music has always been a part of my life. It probably all started listening to old Grateful Dead, Peter Paul & Mary, and Simon & Garfunkel records that my parents had, but it wasn't long before they were taking me to concerts like Starship, Crosby, Stills & Nash, and Huey Lewis & The News. I got the bug to write about music after reviewing an Eric Clapton concert for a creative writing project in high school but didn't really take it up seriously until 2002. Since then I have published countless articles in The Marquee Magazine and done some work for Jambase.com, SPIN Magazine, and various other outlets. I started Listen Up Denver! as a way to share the music information that is constantly spilling out of my head with people who care. Please enjoy!