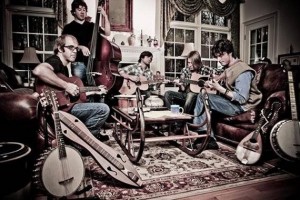 The Scene: Brooklyn Bluegrass-Americana band Yarn made a stop at Cervantes' Other Side last Friday evening and brought with them vibrant personality and energy, igniting a smallish crowd of devoted "Yarmy" that traveled from as far away as Utah and Pennsylvania to see their favorite band perform. Since their inception in 2007, Yarn has become one of the hardest touring bands of this generation. They sing songs about drunken debauchery, failed relationships and the folly of man with a frantic energy that is highlighted by the dazzling fingers of Andrew Hendryx on the mandolin and the aching voice of Blake Christiana. Although there was some Hip-Hop booming next door in the ballroom, it didn't affect Yarn's performance and the small crowd moved close to the stage for a good old-fashioned family style throw down.
Yarn: The performance on Friday was well delivered. The band's sound straddles the divide between Bluegrass, Americana and Jam; the result is extremely pleasing to the ears and the soul. Yarn isn't afraid of pushing songs into lengthy territory and we were treated to several winding jams that spanned more than 15 minutes apiece. Songs such as "Fussin' and Fightin'" display the group's ability to craft catchy sing-along numbers while tracks like "Tennessee" and "Abilene" had the band sounding more like a darker version of The Infamous Stringdusters. Fortunately, we were treated to tracks that spanned several Yarn albums. The stoner whiskey anthem "I Wanted to Get High" had the crowd singing rambunctiously and the fan favorite "Turn the Light Off" was loud, rowdy and nearly perfect in style and substance. Towards the end of the set, they turned in a terrific cover of Lou Reed's "Oh! Sweet Nuthin'" that put the stamp on another excellent evening from the Other Side. If you haven't gotten into Yarn yet check out their collection shows on Archive.org and you can download Friday's performance at The Other Side for free right here.
Setlist: Empty Pockets, Down On Your Luck, Bobby Weeks, I'm So Tired, One Man's Trash, Fussin' and Fightin', Old Shoes, Tennessee, Abilene, When The Summer Ends, Turn the Light Off, The Loner, I Wanted To Get High, Angel Place That Halo, Bad Bad Man, Woman on the Interstate, Music's Only Outlaw, Oh! Sweet Nuthin', Alone on the Weekend, New York City Found
Encore: Never Tear Us Apart
Energy: A +
Musicianship: A +
Sound: A-
Stage Presence: B+
Set/Light Show: B-
Overall: A –
I've worked various positions in the music industry with Madison House, Rock The Earth and Bohemian Nights. My dream is to travel the world and seek out all the good tunes, beer and food that make life so special. I have a healthy obsession with live music and I'm thrilled to share the epic moments with you.