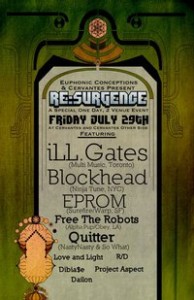 Euphonic Conceptions & Cervantes Present
RE:SURGENCE
at Cervantes & Cervantes Other Side
Friday, July 29
two stages
lights / visuals / more
live painting / screen printing
performance artists / dancers
affordable / reasonable ticket price
the stiffest drinks in the state
Re: Surgence is yet another dual venue event in a growing history of dual venue events bringing some of the hottest up and coming producers in this hemisphere to take over Cervantes & Cervantes Other Side. This time, Friday, July 29, the lineup features an exceptionally diverse array of both intelligent and bass heavy electronic music to scintillate senses and stimulate minds.
Blockhead is a brilliant producer best known for producing many of the eclectic hip hop artist Aesop Rock's best songs, as well as some incredible solo efforts such as "The Music Scene" and others. His music crosses over from the realm of hip into dance music, and is moves dancefloors as well as stimulating minds.
iLL Gates' speaker-shaking bass lines and big-time breakbeats keep the crowd moving through every element of his ever-evolving set. Glitched out hip-hop, cut-up vocals, reggae twists and all the grime you'd ever need or want on a Friday night.
EPROM infuses his music with such raw energy, sense of movement and love of the bounce that it almost becomes human. Named over and over by other top West Coast producers as an influence and inspiration, this respected San Francisco-based artist is making a profound impact on the evolution of modern sound.
Who is QUITTER? Quitter is a collab between bay area phenoms NastyNasty & So What. What is Quitter ? Think Texas rap, Bmore club, and Miami bass fused with G Funk synths, swag horns and salsa hats.
Chris Alfaro is FREE THE ROBOTS. The genre-defying artist pulls together heavy doses of traditional jazz, Psych, Electronic, Hip Hop, with progressive melodies and devastating drums into a rich pot of sound. His techniques create harmony between genres with the blending of obscure samples with analog and digital compositions.
LOVE & LIGHT creates music that touches their hearts and elevates their souls, the duo's goal is the uplifting of people across the world through melodic synth lines, complex chord structure, intricate rhythms, and funky, chunky bass lines. Though having a strong focus on midtempo bass music, their span of producing talents are limitless.
R/D and his former DJ partner were invited to help throw a party for the closing of Perry Farrell's studio in Venice Beach, CA. They DJ'd for 6 hours, breaking only once for a debut of Perry's new project. Several months later, R/D was invited to DJ at the first Coachella. These monumental events drew him to Los Angeles and the rest, as they say, is history.
Hailing from LA's very own Watt's, Dibia$e's productions run the gambit from 8 bit video game classics to seductive soul to raw grungy bangers. This 12 time beat battle champion and runner up of the Los Angeles Red Bull Big Tune Beat Battle has no limitations. No sample is safe.
Purchase LIMITED $20 Fan Club Tickets
Music has always been a part of my life. It probably all started listening to old Grateful Dead, Peter Paul & Mary, and Simon & Garfunkel records that my parents had, but it wasn't long before they were taking me to concerts like Starship, Crosby, Stills & Nash, and Huey Lewis & The News. I got the bug to write about music after reviewing an Eric Clapton concert for a creative writing project in high school but didn't really take it up seriously until 2002. Since then I have published countless articles in The Marquee Magazine and done some work for Jambase.com, SPIN Magazine, and various other outlets. I started Listen Up Denver! as a way to share the music information that is constantly spilling out of my head with people who care. Please enjoy!