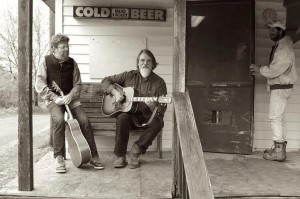 Listen Up Denver! had the pleasure of speaking with Darrell Scott ahead of his Colorado mini-tour with Tim O'Brien in support of their 2013 album release "Memories and Moments." Darrell is a stunning artist who is as at home writing, singing, and performing his own songs as he is playing guitar for artists like Guy Clark, Steve Earle, and Robert Plant as a member of the Rock legend's "Band of Joy." His songs have been covered by a wide range of artists including the Dixie Chicks, Travis Tritt, Keb' Mo', and Guy Clark. He has released 11 albums, including three with Tim O'Brien (also Real Time (2000) and Live: We're Usually a Lot Better Than This (2012)).
Listen Up Denver!: Where have I reached you today?
Darrell Scott: Nashville, in my home. We just got back yesterday from Ireland and the UK. I am home for a couple of days, and then leave for Colorado on Thursday.
LUD!: I went to college in Nashville, to Vanderbilt, but I was raised in Chicago and knew nothing about the Country / Folk / Bluegrass scene when I got there, so I got sucked in by the Nashville Country music machine. That has lingered to this day, and yet every year when I go to the Telluride Bluegrass Festival, I hear a song that either you or Tim O'Brien wrote that is one of my favorite country songs from the previous year [A Great Day to Be Alive, covered by Travis Tritt; Long Time Gone, covered by the Dixie Chicks]. It's one of the ways I was introduced to your music. Tell me about that aspect of who you are as an artist, because that feels very different from the Darrell Scott who performs these honest, gut-wrenching songs in front of a crowd.
DS: Yes, although sometimes they are the same; those same songs that are hits were songs that I recorded for my record before anyone else. I don't really write for the marketplace because every time I've tried, it sounds like something that was written for the marketplace . . . it sounds as mediocre as every other song written for the marketplace. I find that the songs that do the best, whether it's me doing my own stuff or someone recording a song of mine, really still come from the same kind of place. I'm not thinking that this is the kind of song that is going to go up the charts. That kind of thinking really doesn't have much to do with writing honest songs. I've been really lucky in that I haven't had to change what I do in order to have Nashville cover some of my songs sometimes.
LUD!: Do you pitch those to the artist, or do they find them and cover them?
DS: They usually find them; that's not the typical case down here, but most people who cover my songs have been fans of my records. The Dixie Chicks knew of my songs and Tim's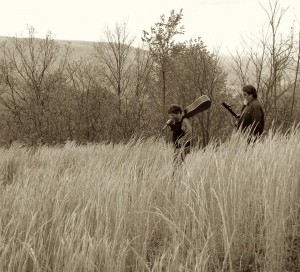 because they buy our music. These folks get pitched stuff constantly, and so another pitch is just another pitch. I think if the same thing happened to us our eyes would glaze over.  You just learn to not even engage with that process. When an artist finds the song on their own, they have something invested into the decision about the song. That's not to say that's how 100% of my songs have been covered, but most of the time it's been someone in their camp having a personal connection to the song, whether the artist, producer, or whatever.
LUD!: I remember one time hearing Sam Bush say that we were used to hearing him play at Telluride to 10,000 people, but that's not typical for him. That's how I think of you, too! What is the difference in a show for you – would you rather play to an audience of 10,000 where many don't know your music, or to a small audience of 150 fans?
DS: I like all of that. To me they are just different. . . Telluride is just its own thing, there isn't another Telluride. It's very special, it's in its own category. I love Telluride, I've gone for many years and hope to return for many more. It's just whatever the event is, I just kind of face it one at a time, whether it's Telluride or 150 people, whatever the situation is, I assess it and give it my best.
One of the ironies about Telluride . . . I love it so much. In some ways there is so much pressure as performer at Telluride, we just want to knock it out of the park and sometimes we don't always have our best sets at Telluride. I wish I could say that I do 100% of the time.
LUD!: I feel like your songs are so raw and honest. Is it ever exhausting to perform?
DS: The meaning of travel equals exhaustion. It's almost hard to describe, it would sound like bitterness and complaining to describe how hard it is to travel. The performance isn't, but if I was to just state the fact of what happened in our last 24 hours of travel, it's exhausting. Tim leaves for Denver tomorrow, at least I have another day, so he spends one day here getting laundry from being gone for two weeks, picking up equipment, you have 24 hours to do that and off you go again. It can sound like complaining when you're actually telling the truth. The music isn't exhausting, but the travel is beyond explanation. You get older, as we do, and the travel gets harder.
But the music is what brings it out, you look for the music, for you and the audience to be transcended in whatever ways that can happen by getting up and playing music. At least during the time when you're playing music there can be an elevation of sensibility and time and space . . . most of the time it works that way.
LUD!: You and Tim O'Brien have been working together since Real Time came out in 2000.
DS: We probably played together by '97 or '98. I was living in Nashville, and Tim had just moved here from the Colorado area. I had moved there about five years before then, playing the Bluebird and Douglas Corner, until I decided to get out and start to travel and go to festivals.
I played with Sam Bush for two years, he's probably where I started to travel as I kind of know it now. We played in town, but then our next gig was Telluride. I played with him for two seasons, probably '96 or '97 or somewhere in there, and then I started playing with Guy Clark probably in 2000 or 2001 or so.
LUD!: This is probably a typical question, but why Tim? You've come across an incredible variety of artists over the course of your career. What's special about your relationship with Tim?
DS: It's the music that we make together. It's the singing, it's the harmony, it's the playing, it's the songwriting – both songs we write together and then a great respect for the songs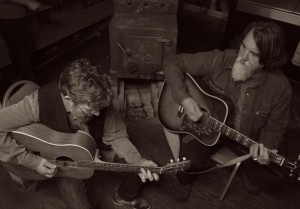 we write apart, too. We don't have to think about it . . . as a matter of fact thinking doesn't really help at all when it comes to music with me and Tim, we just begin to play and that's all that's really required. There's an unspoken thing that happens when we play and sing and write, and we noticed that pretty early on. It's kind of a brother's harmony of sorts that we have and we never really talked about it or planned it or practiced it, we just did it. It's still like that, even when we took our break from 2002 – 2013, it was all still there, all just attached.
LUD!: We just lost the godfather of activist music, Pete Seeger. Some of your songs have a big message in them . . . what influence did Pete have on your music?
DS: As huge as that can get in terms of seeing what one man can do with a banjo, to just step out there and do that. The social consciousness. Taking old songs and making them new again, writing new verses.
A song of mine called "Banjo Clark" came directly from Pete Seeger. I read in a book of his called The Incompleat Folk Singer that the banjo came from Africa, it didn't come from Appalachia at all. I wrote that song with a friend and in a very Pete Seeger fashion, where you write new verses or new topics to old tunes. We took the "Old Joe Clark" melody and put the message about where the banjo actually came from into a song. That's 100% Pete Seeger . . . the folk tradition of taking of writing new concerns and new ideas to it.
On my banjo I have two autographs. On the inside I have Earl Scruggs and then on the outside I have Pete Seeger's signatures, so I've got it going on that. I'm very proud of that, and very proud that Pete's on the front, that's exactly right.
Pete Seeger is definitely a light, a white angel for our music.
February 13 – E-Town Hall – Boulder, CO
February 14 – Strings Music Pavilion – Steamboat Springs, CO
February 15 – Oriental Theater – Denver, CO (Sold Out)
February 16 – Durango Arts Center – Durango, CO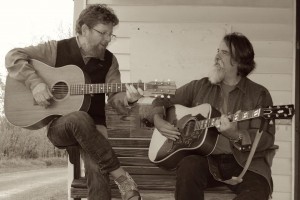 Amy Murin was raised with a professional guitar player for a brother and a Parrothead for a father - how could she not love music? She wouldn't miss the Telluride Bluegrass Festival, loves a great funk dance party (preferably with Orgone), has a soft spot for country after going to college in Nashville, and will go see any live band that is up on stage appreciating the fact that they have the greatest job in the world. Her first concert was either the Beach Boys or Rick Springfield, but she really thinks it all began when her parents went to see Elvis in Vegas when she was in the womb. You'll find her dancing at Cervantes, Quixote's, Red Rocks, the Bluebird, or really any live music venue with good music on any night of the week. She loves discovering new bands (to her), and loves turning people on to fabulous musicians!