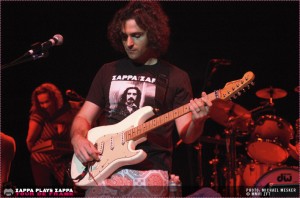 The Scene: The crowd was fittingly bizarre at the Ogden Theatre last Friday as fans old and new made their way in the doors for Zappa Plays Zappa. If you don't know the name Frank Zappa and The Mothers of Invention, you've probably been hiding under a rock for the last 40 years (ok, maybe you were born in the last 15). The late musical genius is remembered for his off-beat sound, insanely intricate songwriting and preposterously hilarious lyrics. He challenged the norms of conventional Rock and Roll and his son Dweezil Zappa stands now as his legacy. He definitely got some of those genius genes.
Zappa Plays Zappa is Dweezil's homage to his father and his band, the music they made and the perplexing message they conveyed. On Friday he covered His father's Roxy & Elsewhere album, released in 1974. The three shows that make up the bulk of the album were recorded at The Roxy Theatre in 1973, and are considered something of lore; songs were performed that were never previously recorded on any album, and would not be released in any other form besides the live album. Frank also produced Roxy & Elsewhere, incorporating studio samples to the live tracks–he was said to have been obsessive/compulsive with regards to recording and production of the music he so meticulously composed. Some say there is a long-lost film that Frank made while making the album. They say it is sitting in a vault waiting for someone to bring forth the funds to give it a proper release. Of course, the music from the album runs in The Mother's typical atypical manner.
Long story short, all the freaks came out last Friday, all ready to get their dose of Zappa weirdness. Valentine's Day added an extra kick of strange to the mix. PDA was everywhere you turned. Couples clung to each other and whispered sweet nothings into each other's ears. This, of course, provided fuel for the fires of the "loud and proud" singles present. Many were clearly out to show the world what they think of the Hallmark holiday. There were quite a handful of sad wasted old dudes too. AWKWARD. But that's ok–it's Zappa. It's supposed to be awkward, right? The venue filled up early. There was no opener. One guy told me "I got here at three," shortly before falling off his stool. Apparently the VIP ticket included a sound check.
Zappa Plays Zappa: The crowd cheered as the house lights went down and  a flood of blue light invaded the stage, marking the start of the show. Spotlights aimed and fired, and the packed house got it's first look at the band that I heard a fan say is "every bit as good as the Mothers of Invention were in their day." The lights come up. Before kicking it off, Dweezil chatted with crowd about his dad and told us about the album they were covering.
The first song of the album, "Penguin in Bondage," is classic Zappa silliness; Dweezil and his band killed it. Ben Thomas was the perfect fit for his role as lead vocalist, his voice went from silly to deep and bluesy, and whats more, played trombone, trumpet and several various noise noise makers to boot. Their female vocalist, Scheila Gonzalez also played keys and was a force to be reckoned with when she had a sax to her lips. The drummer's hair-do looked like he was transported here from 1970s–awesome. Keys/sound production dude, Chris Norton, looked like he just came from Burning Man, he was rocking a ponytail and feather in his hat. He switched from keys to effects with a certain fluidity. The stand-in bassist wore all black, nothing too notable about this guy (sorry bassists). As I watched the show, I thought about how Dweezil resembles his dad, not just in appearance, but in his being. He threw down several guitar riffs before the first song was over, it was a great opener.
The next song, "Pygmy Twylyght," combined Rock, Soul, Blues and some of the most redonkulous lyrics I've ever heard. Next, they played "Dummy Up," which included a theatrical performance, just as it did when The Mothers performed it in 1973. The show continued with many more songs–some more Jazzy, others harder and more Rock-driven, all unquestionably weird. They played "Trouble Every Day," which was also on Frank's first studio album, so it was a big crowd pleaser, and came complete with vomiting sound effects. Too bad Frank never made it to Broadway. They also played "Bebop Tango (Of the Old Jazzmen's Church)," during which Dweezil hand-picked people out of audience to help with a live demonstration of the "perverted dance." This mostly consisted of gyrating and convulsing motions–not far from crunking or twerking in most cases. It was all pretty funny until Dweezil asked the crowd to get involved as a whole. That part was a little lame. The crowd, which had been stagnant up until that point, made a flaccid attempt at an effort to dance and then returned to its standstill.
The rest of the show was pretty awesome. The sax chick put on a Viking helmet and sang some opera and other plots were acted out on stage. The audience ate it up (they might not have danced, but they cheered and shook their beers at the band a lot). The set list didn't include many sing-alongs, but most Zappa fans are more excited to see the rare songs anyway. When their set came to an end, the band made a brief exit and then returned for an encore performance of the songs "Florentine Pogen" And "Nanook Rubs It." With names like that I don't know why I bother explaining how marvelously peculiar this show was. Though it ended fairly early, it was well-delivered and fans of the "Zappa Family Trust," old and young, single and coupled, stumbling and prancing, all left the Ogden satisfied.
Energy: A-
Musicianship: A
Sound: B+
Stage Presence: A+
Set/Light Show: B-
Overall: A-

Audiophile. Logomaniac. I must get to the show.