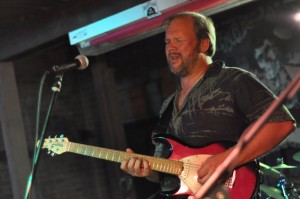 All Photos by Tim Dwenger
Saturday night at Quixotes was all about the music that inspired the creation of the venue in the first place.  In the main room, California's Cubensis was cranking out tight versions of Grateful Dead classics like "Shakedown Street," "New Minglewood Blues," and "Brown-Eyed Women," while outside, the local boys in DeadPhish Orchestra were seamlessly weaving Dead and Phish tunes together to the delight of the tie-dye wearing fans that crowded the patio on a beautiful night.
While we wandered inside a few times to check in with Cubensis, most of our time was spent with outside DeadPhish and as usual they were spot on.  Paul Murin on lead guitar interpreted Trey Anastasio's intricate playing with an ease and flow that is a real testament to his skill as a player and the rest of the band gelled with him expertly as they danced between the songs of the two seminal jam bands.  Though they haven't been playing too frequently as DeadPhish lately, Murin, bass player Brian Adams, and drummer Chris Sheldon spent about five years player together night in and night out in the Phish tribute band Phix, and that time together shines through to this day when they take the stage together and seem to share a brain.
DeadPhish Orchestra – Quixote's – 6/11
SET ONE: Theme from the Bottom > Here Comes Sunshine > Bathtub Gin > Here Comes Sunshine, Birds of a Feather > Carini > Mason's Children > Possum
SET TWO: Help on The Way > Slipknot > Tweezer > Slipknot > Frankenstein, Mike's Song > Throwin' Stones > Gotta Jiboo > Franklin's Tower > Weekapaug Groove. E: Tweezer Reprise
Cubensis – Quixote's – 6/11
Shakedown st.>Just a little light, New Minglewood Blues, Brown Eyed Women, China Cat Sunflower>I Know You Rider*, Soulshine, Maggie's Farm, Uncle John's Band>Drums>Space>Bird song, One More Saturday Night
*w/roy jay on guitar
Music has always been a part of my life. It probably all started listening to old Grateful Dead, Peter Paul & Mary, and Simon & Garfunkel records that my parents had, but it wasn't long before they were taking me to concerts like Starship, Crosby, Stills & Nash, and Huey Lewis & The News. I got the bug to write about music after reviewing an Eric Clapton concert for a creative writing project in high school but didn't really take it up seriously until 2002. Since then I have published countless articles in The Marquee Magazine and done some work for Jambase.com, SPIN Magazine, and various other outlets. I started Listen Up Denver! as a way to share the music information that is constantly spilling out of my head with people who care. Please enjoy!