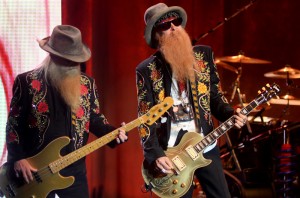 Photos by Todd Radunsky
One of the world's most recognizable bands, ZZ Top, brought their long red beards and some Texas flavored, Blues infused Rock to Denver's Paramount Theatre on Saturday night for the 2nd stop on their 16 show tour which routes the band through the United States and Canada before heading to Europe.  There wasn't an empty seat in the house as people came from far and near to hear classic ZZ Top songs like "Jesus just left Chicago," "Cheap Sunglasses" & "Legs."  Guitarist Billy Gibbons, Bass player Dusty Hill, and Drummer Frank Beard all sounded tight and had the crowd singing and dancing the entire set.
Set List: Got Me Under Pressure, Waitin' for the Bus, Jesus Just Left Chicago, Gimme All Your Lovin', I'm Bad, I'm Nationwide, Pincushion, I Gotsta Get Paid, Flyin' High, Foxy Lady (The Jimi Hendrix Experience cover), Catfish Blues (Muddy Waters cover), Cheap Sunglasses, My Head's in Mississippi, Chartreuse, Sharp Dressed Man, Legs 
Encore: La Grange / Sloppy Drunk Jam, Tush
I work in the music industry photographing bands live and offstage for publicity. My work includes shooting concerts, festivals, and portraits of musicians and bands. I shoot for promoters, record companies, publicists, magazines, band managers, and individual musicians. I also photograph weddings, and portraits and have traveled the world to do so. I've shot weddings in Cali, Ireland, Mexico, Cape Cod, and Amsterdam to name a few.