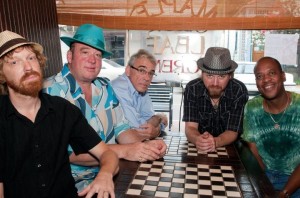 Why You Should Go: It's been said that the musicians of New Orleans are all members of one gigantic band that breaks up into smaller groups on a nightly basis. If this were really the case, The New Orleans Suspects would be in a class all their own. The group is comprised of musicians with experience and versatility that rival any other band the city has ever produced. Known for their high-energy live shows, they create music that is firmly rooted in the modern New Orleans sound with compelling originals and tasteful covers. They released two albums in 2012 – their eponymous debut studio album, and "Live at the Maple Leaf," which made it into iTunes highly competitive "New and Noteworthy" page. The band will be supported by Colorado favorites Great American Taxi, making this a night of must see music!
Venue:  Cervantes' Ballroom, 2635 Welton Street, Denver, CO 80205 – 303/297-1772
Doors: 8:00 pm. Show starts at 9:00 pm.
*Price: $15.00 Adv. $20.00 DoS
Get Tickets
*All prices are gathered from other sources and we are not responsible for mistakes or inconsistencies. They are intended only as guidelines. Please, always call the venue if you desire the most accurate information possible.