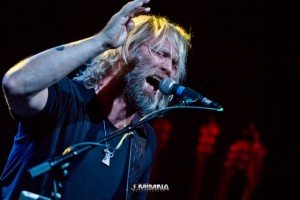 Photo by Jim Mimna
Why You Should Go: Between the potency of his richly detailed songwriting, his intensely emotional, soulful vocals and his piercing, expert guitar work, New Orleans' Anders Osborne is a true musical treasure. He is among the most original and visionary musicians writing and performing today. Guitar Player calls him "the poet laureate of Louisiana's fertile roots music scene." New Orleans' Gambit Weekly recently honored Osborne as the Entertainer Of The Year.  OffBeat named him the Crescent City's Best Guitarist for the third year in a row, and the Best Songwriter for the second straight year. Osborne also won Song Of The Year for his composition, Louisiana Gold.  This weekend you will be afforded two chances to catch the award winning musician! Friday at The Bluebird Theater and Saturday at Burning Can Oskar Blues' Fest in Lyons.
Venue:
Friday: The Bluebird Theater, 3317 E. Colfax Ave, Denver, CO 80206 – 303/377-1666
Saturday: Bohn Park, 219 2nd Ave. Lyons CO 80540 303/776-1914
Doors:
Bluebird: Doors at 8:00 pm. Showtime at 9:00 pm.
Burning Can Fest: Doors at 4:00 pm. Music starts at 7:00 pm.
*Price:
Bluebird $22.00 Adv. $25.00 DoS. Purchase Tickets
Burning Can: Music is FREE – Beer Fest $30.00 Adv. GA. $35.00 DoS. GA. VIP $45.00. Purchase Tickets
*All prices are gathered from other sources and we are not responsible for mistakes or inconsistencies. They are intended only as guidelines. Please, always call the venue if you desire the most accurate information possible.