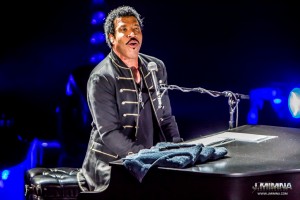 Photos by Jim Mimna
The Scene: After an early rainstorm moved out of the area, the night sky cleared and the masses descended on Red Rocks to hear one of the best selling artists of all time, Lionel Richie.  There were, of course, suburban couples in their 40's and 50's out in force but there were also a surprising number of 20 and 30 somethings who were clearly raised on this music gracing the benches of the hallowed amphitheater alongside 60 and 70 and seventy year olds who weren't afraid to brave the steps to see one of the great songwriters take the stage and deliver "all the hits, all night long."
Opener: Cee Lo Green. Though we walked into Red Rocks toward the end of Cee Lo Green's set, I think we heard the two songs that most people were hoping to hear: The Gnarls Barkley mega-hit "Crazy" and Cee Lo's own "Fuck You."  By  all accounts the rest of the set was a little bit disjointed as the talented soul man teased bits of pieces of classics like "Don't Ya Think I'm Sexy," "We Are Family" and "I Feel Good" as the scantily clad women in his backing band shredded solos and showed off their garters.  That said, I think Green did his job and got the crowd amped up for the main event (though a good DJ might have done just as well).
Lionel Richie: So, I'll admit it right off the bat, I'm not a huge Lionel Richie fan.  Sure, I've heard the hits but I didn't grow up on this man's music.  I grew up on 60's Folk, The Grateful Dead, Crosby Stills and Nash, The Eagles and bands like that.  I was into Acoustic Rock and my parents sure weren't spinning smooth R&B flavored hits as they drove me to baseball practice and friends houses in the 80's.
When I became familiar with Richie through his work in The Commodores, it was the harder hitting 70's Funk that I gravitated toward and when I signed on to cover this show I was naively hoping that a barrage of funky tunes like "Machine Gun" and "Brick House" would have The Rocks dancing all night long.  What I got instead was a easy listeners dream as Richie serenaded the capacity crowd with ballad after ballad like "Ballerina Girl," "Three Times A Lady" and "Say You, Say Me."  It was an education in his catalog and one I'm glad I got as there were several songs that popped up in the setlist I wasn't aware he had written.
The highlights of the set for me included an early "Easy" (that even slipped into Reggae for a few bars), "Dancing on the Ceiling" and, of course, "Brick House" (though somehow this last track didn't pack quite the punch I was hoping for).  Much of the rest of the set called for a crackling fire, a warm blanket, a glass of red wine and a warm body curled up next to you, and while that's not a bad thing at all.  It's not quite what I expected.  Maybe I went in with completely off base expectations, but between the smooth tunes and the mediocre musicianship from Richie's band, this show didn't really stir me. As I said to a friend the next day "fun was had, sing alongs were sung but honestly I was less than impressed with his band and the cheese factor was VERY high."
One thing that added to the "cheese factor" of the evening was that NBC was on hand to record the concert for re-broadcast on the 4th of July as part of an Independence Day special they will be airing.  As a result, at several points during the night Richie belted out "Happy Fourth of July America!" BLAH! He also teased us by inviting Diana Ross to the stage to sing the duet they are so famous for: "Endless Love."  In the end he admitted that Ross wasn't on hand to sing with him and he asked all the women in the crowd to fill in for her.  While they did an admirable job, I could have done with the tired joke that probably infuriated some hardcore Ross fans in the crowd.
Richie ended the show with the pairing of "Hello" and "All Night Long" before following them up with the ultimate sing-along; "We Are The World," a song he co-wrote with Michael Jackson. The Rocks reverberated as fans of all ages belted out the lyrics that took us back 30 years to the Regan era.  I really don't mean to bash the performance because I know several people who loved every minute of it but, to me, these songs found their home in the skating rinks of the 80's and easy listening stations of today and I'm quite content if they stay there.
Energy: B+
Musicianship: C+
Sound: B
Stage Presence: A
Set/Light Show: B+
Overall: B
Music has always been a part of my life. It probably all started listening to old Grateful Dead, Peter Paul & Mary, and Simon & Garfunkel records that my parents had, but it wasn't long before they were taking me to concerts like Starship, Crosby, Stills & Nash, and Huey Lewis & The News. I got the bug to write about music after reviewing an Eric Clapton concert for a creative writing project in high school but didn't really take it up seriously until 2002. Since then I have published countless articles in The Marquee Magazine and done some work for Jambase.com, SPIN Magazine, and various other outlets. I started Listen Up Denver! as a way to share the music information that is constantly spilling out of my head with people who care. Please enjoy!