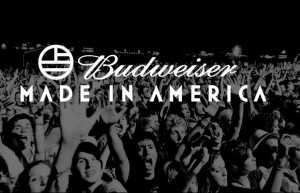 The Scene: The line started to form around 6:00pm at the Fillmore Auditorium with hundreds of 21-28 year olds ready to dance and party.    This was, after all, an energetic line up and Budweiser was providing free beer all night.  The newly organized annual free party has become the place to be in mid-June for the past few summers.  This year The Floozies, a band formed by two brothers from Kansas, and Cash Cash, a three member DJ group comprised of brothers and best friends from New Jersey.  The Budweiser Made in America parties are held in multiple cities around the country with the larger, multi-artist festival held in Los Angeles, CA and Philadelphia, PA over Labor Day weekend.
After getting your individual check in number, you were allowed into the venue.  This was a first come first serve operation with your RSVP ticket acquired online.  Once inside the venue, there are so many activities going on, it was hard to choose what to do first.  The bar was serving 16oz Budweiser's only, limit 2 per person per visit, Pink Tank food truck provided food for the masses with chicken and waffles, pear salad and chicken wings.  The chicken and waffles were by far the most popular.  There was a long line to get your face painted with Red, white and blue stripes, stars or whatever design you could come up with.  Everyone was getting into party mode and the American spirt.  Did I mention that all of this was free?  There were countless photo ops with a designated staged area with Budweiser party team members taking pictures that could be immediately shared on your favorite social media outlet #MADEINAMERICA.
Opener: The Floozies warmed up the crowd starting by 8:50pm.   Their style of funky, pulsing, electronic beats, meshed with live drums and guitar made for a solid dynamic duo.  The rhythmic dance grooves gave everyone that first spark of energy for a night that would no doubt be a fun one.  Looping produced tracks with Mark Hill's drums, gave each song that special touch not given by DJ's alone.  Bringing live instruments to the stage shows off the artists' musical talents and adds more depth to brother Matt Hill's producing abilities.  Matt is also well versed on the guitar, playing soulful riffs that give their remixed tunes additional gravity bringing the crowd up and down through the bassmosphere.  The Floozies entertained with their own rendition of Toto's "Africa," drawing out the known keyboard sample and had the crowd singing "It's gonna take a lot to drag me away from you.  There's nothing that a hundred men or more could ever do."  Everyone enjoys a good sing-a-long.   The Floozies had everyone dancing for a few more songs, including another sing-a-long that came in the form of "Fat Bottom Girls" by Queen and wrapped with enough bass to keep the crowd energized for Cash Cash.
Cash Cash: Cash Cash came to Denver with one mission in mind and that was to party.  These fellas are creating the high energy, louder the better, make you wanna dance, jump and sing party music.  They are known recently for their popular remixes including Katy Perry's "Birthday" and Capital Cities "Safe and Sound."  Their hit song "Take Me Home" has appeared on many top music charts since 2013, has over 21 million hits on Spotify, and will continue to be a club hit.
Cash Cash wound up the now loose crowd with their song "Satellites" and remixed versions of Naughty Boy's "La La La" and Icona Pop's "All Night."  They bring the crowd into the scene by shouting "let's do this" into the mic a few times per song and everyone agrees.  The stage presence of the three guys at their tables was only emphasized by the massive 3D LCD screen behind them.  3D glasses were supplied and you were definitely missing out if you didn't snag a pair.  Watching the music move and dance with you made for an exceptional experience.  Every song had a different graphic to go with it and during a few moments I wondered if something got slipped into my Budweiser.  The 3D screen was a highlight of Cash Cash's stage set up and brought a new dimension to the music.  Another technology brought to the show was the Flash App, which could be downloaded with a code given at the door.  During Cash Cash's last song, the newly released "Lighting," everyone who downloaded the Flash App had their phone screen flashing to the beat of the song.  It created a wild sense of energy that immersed the crowd in the show.  Cash Cash had the crowd on a rollercoaster of popular song samples and produced dance material giving the crowd the liveliness that comes natural to these pop EDM shows.  This is the current 18 and older generation's favorite type of music and they are enjoying every note of it.
The Denver stop for The Budweiser Made in America 2014 party didn't disappoint.  It brought trending sounds to a dynamic crowd and turned up the heat for what is going to be an epic summer concert line up in Denver.  Everyone had a great time and it showed on social media days after the event.  I will find myself searching for more material to listen to from both groups and hope see them both back in Denver soon.
Energy: A+
Musicianship: B
Sound: B-
Stage Presence: A
Set/Light Show: A+
Overall: A-

From Evergreen, CO currently lives in the highlands of Denver, CO. Found my passion for live music as a young child with my parents taking me to see concerts and live music early in life. First concert? Jimmy Buffett at Fiddlers Green! Received a Bachelors of Arts degree in Business Administration and minor is communications from Fort Lewis College in Durango, CO. Have worked in music publicity for over five years around Denver. Favorite bands and artists include; Talking Heads, Steely Dan, Widespread Panic, Jackie Green, George Clinton, Joe Bonamassa. Rock and Roll, funk, hip hop and jam are the types of music I will favor. Favorite local band; The Motet. Favorite things to do: concerts and live music, SUP on local lakes, yoga, camping and weekend adventures, dive bars with a good jukebox and dining al fresco on my deck with friends.