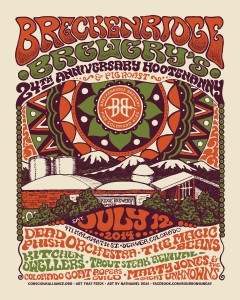 Why You Should Go: Breckenridge Brewery is celebrating their 24th Anniversary with a Hootenanny! On Saturday, July 12th, the brewery will host its annual Street Party and Pig Roast. Tickets are ALL-INCLUSIVE of two stages of music, a meal from the BBQ pig roast, and the full lineup of Breckenridge Brewery beers, including tastings from our Pilot Brewery and Rare Beer Cellar.  The music lineup features some of the best local acts Colorado has to offer including recent Telluride Bluegrass Band Contest winners Trout Steak Revival, Colorado's favorite Grateful Dead/Phish cover band DeadPhish Orchestra, The Magic Beans, Kitchen Dwellers, The Colorado Goat Ropers Guild, and Marty Jones and the Great Unknowns.  Great music, great beer, and great BBQ, can't beat that!
Venue: Breckenridge Brewery 471 Kalamath St. Denver, Colorado 80204 (303) 573-0431
Doors: 11:00 am.
*Price: $30.00 All-Inclusive tickets.  $15.00 Designated Driver or under 21 tickets
Purchase Tickets
*All prices are gathered from other sources and we are not responsible for mistakes or inconsistencies. They are intended only as guidelines. Please, always call the venue if you desire the most accurate information possible.