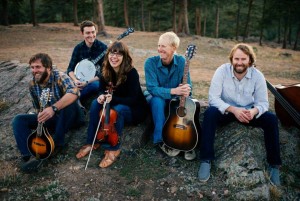 If you love Rocky Mountain Bluegrass as much as we do, you've surely happened upon the skilled sounds of Trout Steak Revival. Elaborate harmonies, masterful instrumentation and equally impressive song writing abilities are what these guys are all about, and they are making waves in our little pond. While the group hails out of Denver, their music was inspired by what lies just beyond our city in the "misty high country" where they say the music was born. In 2012 they placed in Planet Bluegrass' Rockygrass band competition and marked their first major milestone. Since then, they have toured all over , won an Emmy for a PBS soundtrack and, most recently, they won the 2014 Telluride Bluegrass Festival's band competition. With credentials like that, it would appear that the sky is the limit for this relatively young band. They have come a long way, they have a ways to go, and they have a story. Banjo player Travis McNamara happily obliged our 20 Questions so we can share that story with you. Here's the long and short of it:
Listen Up Denver!: How did you come up with your band's name?
Travis McNamara: We went on a weekend fishing trip up in the Sawatch Mountain range and didn't bring any food. Figured we'd catch it all. It poured for three days straight. We would be sitting in the tents drinking whiskey and playing songs from tent to tent on the mandolin, and send one guy out in the rain to catch fish. We'd get drunker and kept yelling, "Bring on the Trout steaks!" And the band name was born.
LUD!: What is the line-up of the band?
Travis: Will Koster on guitar and dobro, Casey Houlihan on upright bass, Travis McNamara on banjo and keys, Bevin Foley on fiddle, and Steve Foltz on guitar and mandolin. We all write and we all sing lead, and sing harmonies on each other's songs.
LUD!: How would you describe your sound?
Travis: Bluegrass-inspired mountain music.
LUD!: Who would you count as major influences on your band?
Travis: I'd say a mix of new and old. Bill Monroe, Tim O'Brien, John Hartford on one hand, Tom Waits, Punch Brothers, Mandolin Orange on the other. We also have some wide musical palates outside of just Bluegrass, too. As Doc Watson said, there's no good or bad genres of music. There's just good pickin' and bad pickin'.
LUD!: How did you guys get started playing together?
Travis: Casey, Will and I used to be summer camp counselors together back in Michigan and learned how to play guitar and lead tunes around the campfire. The band originally all met up one night at the Bucksnort Saloon in Sphinx Park, CO. Steve knew Casey in college in Minnesota. We met Bevin through the acoustic music scene here in Colorado.
LUD!: Does anyone in the band have any formal musical training? If so, what is it?
Travis: Bevin is a classically trained violinist and a hell of one at that – she teaches, too. Travis's mom was a music teacher but he never had any formal lessons, just learned a lot of instruments growing up. Most of us used to be guitar players, but nobody wants to see a bunch of guys playing guitar onstage, so we fanned out the instrumentation. Been teaching ourselves ever since. One of the fun things about Bluegrass-style music is that there is a study element to it. We're always trying to learn more about theory and keeping out chops up, and also delving more and more into our songwriting.
LUD!: Where was your first gig together and how did it go?
Travis: Our first gig was at the Bucksnort Saloon in Sphinx Park, CO. Travis was coming through town on his way to California and Will and Casey were playing up there, said he could sit in if he made it out in time. We had all of our friends up to party — just playing Johnny Cash covers, The Band, stuff like that. And two guys kept coming up from the audience to pick tunes. One was Steve and the other was our old guitar player, Kirk. Travis left for California and a few months later they sent him an EP as the band was formed. Steve had switched his harmonica for a mandolin, which Travis used to play. He thought he got squeezed out of the band, so he went on Craigslist and bought a banjo and learned how to play it, and moved to Denver to audition.
LUD!: What's your favorite memory of playing together?
Travis: Onstage at the Boulder Theater opening up for the Steep Canyon Rangers is pretty high up there.
LUD!: Are you playing any shows coming up that you are particularly excited for?
Travis: The RockyGrass band competition will be really fun. Vail Summer Music Series opening up for Drew Emmitt Band.
LUD!: What is your favorite song to cover?
Travis: We've been havin' fun with Hank Cochran & Glenn Martin's "(When The Phone Don't Ring) It'll Be Me" recently, made popular by the late George Jones.
LUD!: What is the strangest request you've had at a show?
Travis: We just had to learn "World of Pure Imagination" from Willy Wonka for some folks' first dance at their wedding.
LUD!: Have you released any of your material yet? If not, do you have any plans to?
Travis: Two albums, self-produced, and available on iTunes. We're about to record our first studio album at Mighty Fine Audio in August with Chris Pandolfi of  The Infamous Stringdusters working as our producer.
LUD!: What is your favorite venue in Colorado, and why?
Travis: I love the Gold Hill Inn. It is old and perfect.
LUD!: If you could play on any stage in the world where would it be and why?
Travis: Mainstage Telluride Bluegrass Festival. Still one of the most beautiful places I've seen in the world.
LUD!: If you could open for any band or artist, who would it be and why?
Travis: The Infamous Stringdusters. Because they are awesome.
LUD!: What is the most outlandish thing your band would consider putting in your backstage rider?
Travis: Bottle of whiskey. We're easy like that.
LUD!: What is your bands drink of choice?
Travis: See above.
LUD!: Can you name a few local Colorado bands that are really impressing you right now?
Travis: Elephant Revival is doing great. Chimney Choir. Laura Goldhamer. Ark Life. And we've been fortunate to be part of a real family of acoustic and Bluegrass bands in this state–The Railsplitters, Groundscore Bluegrass, Caribou Mountain Collective, Chain Station, just to name a few.
Audiophile. Logomaniac. I must get to the show.