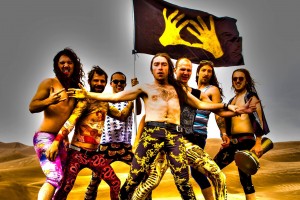 Why You Should Go: Rowdy Shadehouse has been funking up stages in Colorado and beyond the past couple of years, but it looks like they are giving their A-stroke as of late, and sliding into the hearts of Funk lovers everywhere. This bare chested, tight wearing, fun loving, party provoking and sex drive accelerating 6 to 9, not 69, piece band will blow your socks off but ask you to leave your boots on as they Funk you to death. We will warn you; Rowdy Shadehouse is rowdy….to say the least. Gyrations, hip thrusting, and ass shaking builds to a climatic explosion as they spill their Funk onto the crowd, encouraging them to drop their inhibitions, and their pants, and join the rowdy revolution. If you are looking to get down and dirty this weekend, put on your dancing shoes, and go check out Rowdy Shadehouse at The Bluebird Theater as they celebrate the release of their debut album Say It Loud. Eldren and Champagne Charlie will be starting the night off, so be sure to get there early.
Venue:  The Bluebird Theater, 3317 E.Colfax, Denver, Colorado 80206-(303) 377-1666
Doors: 8:00 pm.  Music Starts at 9:00 pm.
*Price: $10-$13
Purchase Tickets
*All prices are gathered from other sources and we are not responsible for mistakes or inconsistencies. They are intended only as guidelines. Please, always call the venue if you desire the most accurate information possible.