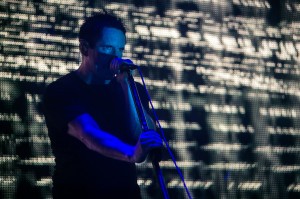 The Scene: I agreed to go to this show even before I knew I was going to write this review. Nine Inch Nails has been on my bucket list for years and I was looking forward to diving head first into a nostalgic realm of my teenage angst ridden years. I was trying not to arrive with too many expectations, although I continued to hear my friends discuss Nine Inch Nail's last Red Rocks show in 2008 as "the best show I've ever seen," so it was hard not to build up some anticipation.
Soundgarden: We walked up to the top of the steps as co-headliner Soundgarden began to play the first notes of their 90's hit "Spoonman." Sitting through Soundgarden I was acutely aware that, while I used to listen to them in their heyday, I never moved deeper into their catalog beyond their requisite top hits. To their credit, the band sounded spot-on and Chris Cornell's voice and stage presence has aged gracefully. Their show was clean, polished and well rehearsed proving that whatever distention was between members that caused their breakup in 1997, they definitely seem to have moved beyond it.
Nine Inch Nails: After the changeover between bands the Red Rocks stage set appeared simple to the point of austerity. A large plain white backdrop covered the rock behind it with multiple markings on the floor made with bright gaffer tape. Other than that there was nothing on stage. No microphone stands. No drum kit. No guitars. My interest was indeed piqued. I was intrigued when a man walked on stage with a simplistic drum kit and began to play a beat. Slowly and one by one he was joined by the other members of the band, each of them carrying their own instrument and mic stand. Once the entire band was assembled the facade of simplicity fell away. Bright white lights flooded each musician reflecting their shadows onto the backdrop. Large panels moved out onto the stage and began their unique dance behind each person, contorting and changing the size and clarity of each unique shadow. Throughout the show the stage set varied from simplistic (Reznor standing on a completely dark stage with a crew member standing immediately alongside shining a yellow floodlight in his face) to fantastical (a complete bombardment of digital imagery and scaffolded colored light that assaulted my senses). From beginning to end the quality of production of the stage and lighting show was stellar and kept me interested and attentive to the stage, even through songs I was not particularly familiar with.
There were four members in this band and when I researched them after the show I found that Reznor has had a long standing pattern. He plays almost all the instruments on his studio recordings. When it comes time to tour he hires individual musicians who add their own take on his songs. Nine Inch Nails has almost never had the same touring musicians over the years, save Reznor himself of course. While the other musicians are indeed on stage and play a huge part of the overall quality of the music and stage show, this is still a Trent Reznor production. He has sole creative control of Nine Inch Nails and was an enigma to watch on stage. Even at 49 years old he has not seemed to slow in any faction of his performance. Standing at times hunched over the microphone as if indeed in the physical or emotional pain he sings about, or at other times launching himself from one end of the stage to the other extolling the rage that seems inherent in his music. I couldn't look away.
The set began with, "Copy of A," the first song off the 2013 release Hesitation Marks. Along with one other song off of his newest release, Reznor meandered back and forth throughout his catalog hitting all of the larger hits like "Head Like a Hole," "Closer" and "Hurt." Nine Inch Nails created a show that had highs and lows, pushes and pulls, light and dark. I honestly felt like I had gone through the full human emotional experience when it was all said and done. While it was not "the best show I've ever seen" it definitely cracked my top five and lived up to the hype. I highly recommend seeing a show on this tour to any music fan and would jump at the chance to see them do it all over again.
Energy: A+
Musicianship: A
Sound: B
Stage Presence: A
Set/Light Show: A+
Overall: A

Jenna Stecker is a freelance writer and music enthusiast who has lived in the Vail area for 7 years. She has published articles in multiple local and regional Colorado publications. When she is not hiking with her boxer Marley you can find her spinning circles inside of a hula hoop.