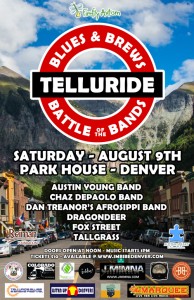 Why You Should Go: Together with the Telluride Blues & Brews Festival, Listen Up Denver! and Park House are hosting a "Battle of the Bands" event on August 9th that will benefit Firefly Autism and Autism Speaks and give some of the best bands in the Rocky Mountain region the opportunity to perform alongside some of the biggest musical names in the country at the 21st annual Telluride Blues & Brews Festival in September.
After combing through over 900 submissions from around the world, the six bands that have been chosen as finalists, and will play head-to-head on August 9th are: 18 year old blues guitar sensation Austin Young Band, New York Blues Hall of Famer Chaz DePaolo Band, International Blues Challenge 3rd place honorees Dan Traenor's Afrosippi Band featuring Erica Brown, rising psych-blues innovators Dragondeer, Westword Music Showcase "Best Traditional Rock Band" winners Fox Street, and the genre bending "blues with a banjo" trio Tallgrass. Each band will be judged by a panel of industry professionals on criteria including:  Talent, Musicianship, Production Value, Professionalism, Songwriting, Crowd Reaction & Stage Presence.  These bands will be giving it there all so make sure not to miss this great day of music!
Venue: Park House 1515 Madison Avenue Denver, CO 80206 – 303-321-0585 
Doors: 12:00 pm. Music Starts at 1:00 pm.
*Price: $10.00. A portion of the proceeds from the event will benefit Firefly Autism and Autism Speaks.
Purchase Tickets