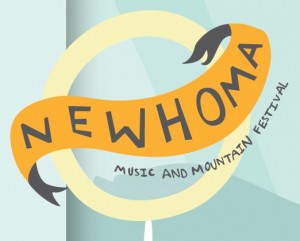 KRCC presents the 2nd Annual Newhoma Music & Mountain Festival
August 20th – Midland Pavilion, Woodland Park, CO
All-day family-friendly event featuring:
Joseph Arthur, Euforquestra and more
Tickets on sale June 28 via Newhoma.org
"Newhoma is a celebration of art, music and the outdoors," explains festival co-founder Terry Hayden. "As was the case last year, we'll have great food, diverse music and good company with entertainment and plenty of time to experience community in the Pikes Peak region."
Newhoma Music & Mountain Festival debuted in 2010 at Big Spring Ranch on Sanborn Western Camps in Florissant. Opting for a more central location, Hayden moved the festival to Woodland Park, a thriving arts community at the intersection of Highways 24 and 67 — a mere 30 minutes from Colorado Springs.
The line-up features a diverse array of artists — already a Newhoma trademark — including Joseph Arthur, Euforquestra, Valerie June, and local favorites Barry & Michelle Patterson.
For the latest updates on bands and other activities, please visit the Newhoma Facebook page or follow Newhoma on Twitter.
As last year's attendees learned first-hand, Newhoma is about music and reveling in the passion of those making it. "Presenting a quality event that celebrates the arts while highlighting a relaxing (or exhilarating) setting wrapped around a festival environment."  At the core, Newhoma is about providing an opportunity for community, place, fun and wonder.
General tickets go on sale Tuesday, June 28 through www.ticketweb.com, www.Newhoma.org, at Peoples National Bank, and Seven Arrows Gallery in Woodland Park and KRCC in Colorado Springs. Adult tickets are only $16, and children under 12 are free.

Music has always been a part of my life. It probably all started listening to old Grateful Dead, Peter Paul & Mary, and Simon & Garfunkel records that my parents had, but it wasn't long before they were taking me to concerts like Starship, Crosby, Stills & Nash, and Huey Lewis & The News. I got the bug to write about music after reviewing an Eric Clapton concert for a creative writing project in high school but didn't really take it up seriously until 2002. Since then I have published countless articles in The Marquee Magazine and done some work for Jambase.com, SPIN Magazine, and various other outlets. I started Listen Up Denver! as a way to share the music information that is constantly spilling out of my head with people who care. Please enjoy!