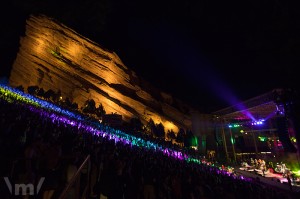 Photos by Mitch Kline
The Scene: A triple bill Saturday night at Red Rocks that I won't forget any time soon. Railroad Earth's happy tribe of Hobos filled the lots and venue with a festive vibe as all three bands played outstanding, high energy sets that kept the place smiling and grooving till the early morning hours.
Opener: The Wood Brothers. The Wood Brothers have some serious chops! Chris Wood (MMW) on stand up bass, his older brother Oliver on guitar, and multi-instrumentalist Jano Rix got down with a solid set of funked-out Folk originals. Great songs for music lovers.
Opener: Greensky Bluegrass. Before we dig into this show, let's all get on the same page. If you're even remotely into jam bands, hell, if you're a lover of damn near any flavor of music, Greensky Bluegrass needs to be on your radar. This group of five friends from Michigan has been quickly earning fans with their soulful songwriting, tight musicianship, genre-bending covers, and phenomenal live performances. I was hooked after my first show, and I have to be honest, Greensky was the reason I had this Red Rocks show circled on my calendar since the day it was announced. These guys just keep getting better, and their flawless extended Red Rocks set most certainly earned them a lot of new Colorado fans.
The band wasted no time building up the energy with an early set "Can't Stop Now" that featured a call and response between Paul Hoffman on vocals and Anders Beck on dobro that echoed off the Red Rocks walls.  They followed it up with a ripping take on take on their own "Kerosene" but the boys really got down to business as the sun dipped below the horizon midway through their set and they charged into a nearly twenty minute version of "All Four" followed by a spaced out take on the Paul Hoffman original "Leap Year" off their forthcoming album If Sorrows Swim (out Sept 19). 
Lighting director Andrew Lincoln served up a top notch light show throughout the second half of their set, including a swirling blanket of light covering the rocks behind the band as they ended with an intro to Prince's "When Doves Cry" (which was played in full to open their Fox Theatre show the the following night in Boulder). I'll be referring my friends to this show as a good first taste of Greensky: flawlessly played, perfect song selection, creative and psychedelic jamming, and great energy.  The night could have ended with Greensky's set and I would have been perfectly satisfied.
Setlist: A Letter To Seymour, In Control, Can't Stop Now, Kerosene, All Four, Leap Year, Working On a Building, Lose My Way, Windshield, When Doves Cry intro
Railroad Earth: I'm fairly certain that Railroad Earth has more talented multi-instrumentalists per capita than any other band on the planet and this group of guys makes some incredible music together. They hit their stride quickly with a raucous "Long Way To Go" opener that set the tone for the rest of the set. "Bird in a House," "Chasin' a Rainbow," and "When the Sun Gets in Your Blood" highlighted an outstanding first set packed with the segues and jamming normally reserved for later in the night.
"The Mile High Horns" joined the band for nearly the entire second set. The horns added an interesting twist to a meandering and mostly mellow set. A lengthy "Hangtown Ball" and "Face With a Hole" into "Mighty River" were highlights while"Like a Buddha" had the entire venue smiling. While well played, unfortunately this set never regained the energy from the first set until a rowdy "Colorado" that led into "Fiddlee" closed out the night with a bang.  
Set 1: Long Way To Go, Walk Beside Me, Drag Him Down > 1759, Bird in a House, Carrying Coal to Newcastle > Chasin' a Rainbow, When the Sun Gets in Your Blood
Set 2: Second Line intro* > Monkey*, Dandelion Wine, Railroad Earth, Hangtown Ball*, Elko, Tuba Mirum* > Face with a Hole* > Mighty River, Like a Buddha * > Grandfather Mountain *, Colorado > Fiddlee
Encore: One More Night on the Road
* with the "Mile High Horns": Jay Rattman on alto saxophone and clarinet, J. D. Little on tenor and baritone saxophones, Michael Silverstein on tuba and trombone, Dan Sears on trumpet
Energy: A+
Musicianship: A+
Sound: A
Stage Prescence: A
Set/Light Show: B+
Overall: A