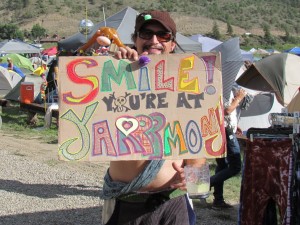 Next weekend brings the annual YarmonyGrass to Rancho Del Rio, high up in the Rockies–because there's no better place in the world for a Bluegrass festival. A favorite on the Colorado summer music schedule, YarmonyGrass provides a variety of locally and nationally renowned names in the Bluegrass and string band communities with a chance to get together in a relaxed environment and pick. This year's lineup boasts a number of impressive acts and should make for a weekend of traditional Bluegrass, experimental string jams, and all sorts of creative collaborations. In particular, big names in the Folk, Americana, Jam and Bluegrass circuits are on the bill for the festival, including Keller Williams, Jeff Austin, Allie Kral, String Cheese Incident's Billy Nershi and Keith Moseley, Railroad Earth's Tim Carbone, John Skehan and Andy Goessling, and many more. So, naturally, the 2014 YarmonyGrass lineup speaks mountains for itself. However, music is not nearly the only thing happening in and around the venue this weekend. With so many activities to partake in at Rancho Del Rio, like floating or boating the Colorado River, we have some friendly advice to offer festival-goers. To help you plan your ideal, jam-packed getaway, we've got our "Top Five" acts that cannot be missed. Next weekend, make sure to find time for these performances between the hours of swimming, camping and fun in the sun…
1) Gipsy Moon: Aside from the fact that cellist Andrew Conley is on our festival-best-dressed list, Gipsy Moon is known for consistently rendering kick-ass, high-octane performances. It's no wonder that they are one of the first bands to open the main stage late Friday afternoon—undoubtedly, they'll get festival-goers pumped for an awesome weekend. Traveling from one mountain town to the next, Gipsy Moon's traditional Folk and Bluegrass sound comes full circle with Mackenzie Page's gruff, seductive vocals that are a tremendous compliment to the pickin' of the four brilliant male instrumentalists, including killer mandolin player Silas Herman. Get there early folks because Gipsy Moon will be there, ready to jump-start your weekend.
2) Tumbleweed Wanderers: The only non-local band on our list, San Francisco's Tumbleweed Wanderers may have a lot to live up to in the eyes of Colorado's Bluegrass community. Well, you can throw any skepticism out the window, because after playing their local festivals such as Outside Lands over the past few years, they know how to please a crowd. Plus, they're as talented as the rest this five-star lineup, and we are glad to have them! With a couple of characteristic afros and a ton of pluckin' skills in tow, the Tumbleweed Wanderers have got on-stage charisma and songs that you'll fall for. Plus, since they're not local, it is now or never. Don't miss what the Bay area's Bluegrass scene has to offer not once, but twice on Saturday night on the Yarmony Creek Saloon stage.
3) Caribou Mountain Collective: Saturday afternoon on the saloon stage you'll catch one of Colorado's most hidden gems, the boys of Caribou Mountain Collective. While still gaining their footing on the live music circuit, CMC frequents stages all over the Denver, Boulder and Rocky Mountain regions, impressing us lucky folks wherever they go. The most traditional Bluegrass band on our list, and therefore an imperative part of the YarmonyGrass lineup, CMC performs their original work, and every once in a while will throw out a Dead cover that will give headliner Grateful Grass a run for its money. Keller Williams might want to coordinate his songs for his Grateful Grass set, before Caribou Mountain Collective comes to collect their dues.
4) Wicked Messenger: Featuring Yonder Mountain String Band's Ben Kaufmann and Adam Aijala, along with friends Darol Anger and John Frazier, Wicked Messenger is an ever-changing side project of our beloved YMSB. Last month Messenger appeared at Northwest String Summit where Kaufmann, Aijala and friend Jay Elliott collaborated on what can only be described as a piece of imagination in motion. Performing YMSB originals along with covers of classic tunes such as "Ziggy Stardust," it's clear to us that recent changes suit Ben and Adam very nicely. Prepare for the unexpected with Wicked Messenger on Friday evening. In summary, all who yonder are not lost, they're just detouring from the straight and narrow, and we love it.
5) The Drunken Hearts: A shout-out has to be made for not only one of Boulder's finest string bands, but also for the group that is responsible for getting us all out to Yarmonize next weekend: thank you, boys! This fine-tuned, Rock-Grass string band is a YarmonyGrass classic. Andrew McConathy's hauntingly silky vocals accompanied with a slow-moving banjo and a soft drumbeat makes for a different type of sound than your traditional Bluegrass. With that being said, the Drunken Hearts' success in the local music scene is due to their unique sound that is exclusively them, and to their indelible breaking with conventional genres. As YarmonyGrass veterans, we can be sure that the Drunken Hearts will be serving us quite a special treat Saturday night, just like last year, and the year before that.
Tickets are Still Available
PURCHASE HERE