Below is a feature that I published in The Marquee Magazine back in 2008.  Widespread Panic was about to do their first New Year's show at the Pepsi Center and Sunny Ortiz talked about the bands deep ties to Colorado.  They still nurture those ties and are returning for three shows at Red Rocks this weekend where they hold the attendance record with 35 sellouts.  It should be a rockin' weekend of music.  Stay tuned for our review and photos from the Saturday show!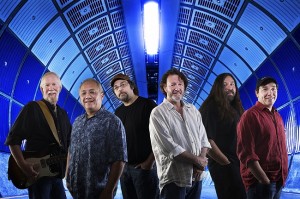 A raging juggernaut of gritty testosterone fueled southern jam rock, Widespread Panic has clawed their way up through the small dive bars and clubs of the Southeast to become one of the most successful touring bands in the country, routinely filling arenas and amphitheaters with throngs of rabid fans. The journey has not been without setbacks, defeats and heartbreaking losses, but the experience as a whole, "the rollercoaster," as percussionist Sunny Ortiz calls it, has been an amazing ride that looks like it will continue for years to come.
Ortiz took some time out to speak with us during a busy week which found Panic turning back the clock, in a manner of speaking, when they took the stage at the intimate, 1,000 person capacity, Irving Plaza in New York City. "It was such a treat to be able to perform at Irving Plaza again. It is kinda nice to go back and play a little bitty intimate venue like that," said Ortiz. "The energy level was incredible, it was just raging, it was wild and ridiculous which it should be in New York City." The show was a benefit for The Bill Graham Memorial Foundation and took place during Billboard magazine's annual Touring Conference, where Panic were the recipients of Billboard's inaugural Road Warrior Award, recognizing the band's "work ethic, steadfast dedication to touring and commitment to the art and craft of live performance."
The Irving Plaza performance was the first time that Panic worked with The Bill Graham Memorial Foundation and, as Ortiz recalled some fond memories of the legendary promoter who essentially created the concert industry as we know it today, it seemed to be a perfect fit. "I first met Bill in Telluride in 1991 when we were playing a festival there. He, of course, introduced us and somewhere in our archives there is a picture of Bill holding our self-titled CD backstage at that show, hugging it almost. He looks so serene. I am trying to get a copy of it for myself. It is quite a unique and special picture," said Ortiz.
A southern rock institution on par with The Allman Brothers or Lynyrd Skynyrd, Widespread Panic has held tightly to its southern roots and home base in Georgia. Since they began touring together as a band, Panic has rung in the New Year at home in Georgia. This year, in a move that surprised many people, the band decided to bring the party to Denver and throwdown at The Pepsi Center for a two night run to close out 2008. "We just thought it was time that we did something special for the people of Colorado. A lot of things have obviously changed in the world of Widespread Panic and we thought this year would be the perfect time to switch it up."
Ortiz went on to talk about the long-term connection that Panic has had with Colorado.  "Colorado has always been our second home because that is pretty much where we cut our teeth as a touring band. We toured there extensively in the mid-'80s and got a lot of help from Jerry Joseph and Little Women. They were the ones that got us out there. I remember that our first show in Colorado was in Steamboat at The Inferno supporting them," said Ortiz. "It is just so beautiful out there. Maybe I'll get to see some snow while we are there this time."
In addition to an extremely talented cast of musicians, the positive and realistic outlook that the band seems to have is a critical part of their success. "The music business is one big rollercoaster ride," said Ortiz, "and we've learned that through a lot of good times and a lot of bad times. The thing that keeps us bonded together and our feet on the ground is knowing that there are a lot of folks that enjoy, love and really care about Widespread Panic. It's that give and take, that excitement that we've always gotten from our fans that just keeps us going on and on. Our way of giving back to these folks is giving that piece of music, which is our life. To me it's not work. To me it is socializing, it's conversation, it's anything but work and anything but touring. It is like being in a traveling minstrel show, I guess, maybe a circus. It is a way of life for us. It may sound corny but it really is. That energy is still there, that drive, that magic. Whatever you want to call it, it is still real strong."

Music has always been a part of my life. It probably all started listening to old Grateful Dead, Peter Paul & Mary, and Simon & Garfunkel records that my parents had, but it wasn't long before they were taking me to concerts like Starship, Crosby, Stills & Nash, and Huey Lewis & The News. I got the bug to write about music after reviewing an Eric Clapton concert for a creative writing project in high school but didn't really take it up seriously until 2002. Since then I have published countless articles in The Marquee Magazine and done some work for Jambase.com, SPIN Magazine, and various other outlets. I started Listen Up Denver! as a way to share the music information that is constantly spilling out of my head with people who care. Please enjoy!