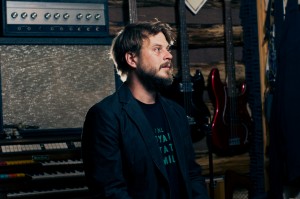 When Listen Up Denver! last talked with Marco Benevento he expressed that one of his goals was "To make a record where someone would hear one song and be like 'Do all the songs sound like that?' And I would like to say 'yes!' Maybe my next record will be more like that. Who knows?" Of course Benevento is talking about a cohesiveness that runs throughout an album and he has certainly achieved that with his newest studio effort, Swift. The record—named after DJ, producer and jack-of-all-trades Richard Swift whose Cottage Grove, Oregon garage studio captured Benevento's new sounds including lyrics written and sung by Benevento—has a certain thematic quality, but pieced together in a way you might not expect.
When we think of theme albums we think of Sgt. Pepper's, Dark Side of the Moon, or The Wall. And we think of guys like Paul McCartney and Roger Waters almost ego-manically pouring over every little detail, rejecting songs that don't fit the theme, and generally making everybody's life miserable. This is not what Marco Benevento set out to do. According to Benevento, he didn't really set out to do anything, except make the best record possible. "I didn't have any preconceived notions of what the theme would be or how it would be, and I never purposely thought while writing the music 'Will this fit in with the new record?'" Yet there is a thread that ties the record together, and for Benevento it was something of a personal zeitgeist. "I think all the songs were developed over a time period where I was composing and writing a certain way." His writing and composing was inspired by the people he met on the road or diners where the band would eat before shows and this method eloquently crystalized a period of time in Benevento's career.
During that time period Benevento and his rhythm section consisting of Dave Dreiwitz on bass (Ween) and Andy Borger on drums (Norah Jones, Tom Waits) were road testing many of the songs that would make it onto Swift as well as tightening up their sound and learning to play together. Benevento sees this as the strongest thread that winds its way throughout the album. "This is the first record I've made with just one band. Every other record I've made has been with two different drummers and two different bass players, sometimes three. So this is the one record I've made with the band I've been on the road with. We've all figured out how to play with each other and make each other sound good." It was the road that also spurred Benevento to seek out producer Richard Swift when it came time to record the album, another critical variable in his quest for continuity.
Although Benevento had been tipped off to Swift's talents by his wife's sister, who lived in the same Oregon town, and Swift had even spun records between sets for Benevento when he would play in Cottage Grove; listening to his mixes during long road hauls sold Benevento on Swift. "He makes killer mixes, like hour, hour and a half mixes from old forty-fives and I had about four these. When Dave, Andy, and I would go on the road and have long drives we would put on these mixes that Swift made of these deep cuts and lots of B-Sides, songs you might not have heard before. We almost got to know him by listening to those mixes because of the way he would pick certain songs or the way he would cross-fade even. The music was really, really cool." Those Swift mixes not only kept the band chugging down the road but also imbued Swift as an ethereal fourth member. But before the Swift variable could be added to the equation of continuity, Benevento would seek out the help his friends and of an old sage in doing something that was fairly new for him.
Benevento's music has always been lyrical. His melodic, riff driven hooks beg for words to be draped over them. While Marco has always known this—he wrote and with a little help from his wife and friends sang the lyrics to the song "This Is How It Goes"—it would take a few insights from friends to get the lyrical wheels turning. "There's a song on Invisible Baby called 'The Real Morning Party.' It's one of our more popular, catchy ones that people know. I was playing it on a gig in New Orleans during Jazz Fest and there were a lot of musicians around and Charlie Hunter was one of the musicians that was there. So we were playing 'The Real Morning Party' and Charlie came up onstage and started singing the melody and looking at me smiling and at the end of the gig he was like 'That's a great tune!' Then the next day he called me and said 'Man, you're really onto something. The thing about that song and your music is that you write instrumental songs but they sound like instrumental covers of songs with vocals.' So in that way going all the way back to Invisible Baby a lot of the songs could be songs with vocals." Benevento was onto something, and when he went to record TigerFace he made sure to write lyrics for the first two tracks on the record. With the help of Kalmia Traver from Rubblebucket his vision of lyrical hooks was realized. But it would take Kalmia's band mate and Rubblebucket bandleader Alex Toth to convince Benevento that lyrics were much more than words draped over melody.
Benevento admits that as the songs that would eventually make it onto Swift were being road tested; he improvised many of the lyrics and even when it came time to go into the studio not all of the lyrics were locked down. While this seemed to suit Benevento just fine and there is something very cool about that kind of spontaneity, Benevento's friend Alex Toth raised an important point. "Alex was going out to LA to have a three day lyric writing session for their new record and my first reaction was… that's such a waste of time. I always thought that whatever I decided was fine and that lyrics weren't that big of a deal. But Alex's point was that… it is a big deal! Lyrics are kind of the way you connect with your audience. A lot of people are drawn to the lyrics and even though it's a new thing for me most people out there are drawn to what the story is. So we talked about it for a while and basically by the end of the conversation I was pretty much convinced that it would be a good idea for me to bounce my lyrical ideas off somebody." So Marco made a list of some "big brains" to bounce his ideas off of and he ended up with his first choice, a big brain indeed.
That big brain belongs to Aaron Freeman, otherwise known as Gene Ween, who just so happened to be a neighbor of Benevento's in upstate New York. But upstate New York is a veritable musician's Mecca and Marco had a lot of people to consider when choosing a lyrical guru. Freeman, however, just seemed to fit Benevento's criteria. "I was trying to think of some sort of big name or somebody who has had a lot of experience with lyric writing who lives around here and that I've collaborated with and Aaron was my first choice. Even before I was playing with Dave, who was in Ween for ten years, I loved Ween and I loved certain songs that they played that were actually written more by Aaron. So I've always dug Aaron's songwriting." Benevento and Freeman's kids also attend the same school and the two have collaborated together for school benefits. So one morning Benevento gave Freeman a call. Freeman came over and the two sat listening to the songs over piping hot Yerba Mate. As the steam swirled and Freeman listened to the songs with the lyrics in front of him, Benevento wasn't sure whether to expect criticism or validation.
To Marco's elation there was much more of the latter than the former even when it came to a line that was troubling him. "One song I played for him I was like I need your help 'cause there's this one line that doesn't make any sense to me but I can't sing anything else and I don't know why I can't sing anything else. I like the sound of the syllables together but the line doesn't make any sense at all. Then he read it and he was like 'I love it! It's what Bob Dylan or John Lennon would do. One line might not make sense on its own but the line after it totally makes it all come together.' I was thinking we were going to be sitting there for half an hour thinking of a better line but he left it." While Benevento changed a few words at Freeman's suggestion, most of the lyrics stayed the same and were ready for Marco to sing. And none too soon, with his meeting with Freeman in November the band was set to go into the studio in March where Swift would help Benevento in his quest for continuity.
With most of the songs ready to go, the band booked only four days to record with Swift in his Cottage Grove studio. "When it came time to get together and record there was vinyl everywhere and it was a very humble looking studio in his garage behind his house with not a lot of gear. We did minimal tracking on drums, bass, and keyboards, but we did a ton of overdubbing on the vocals. It was a really unique way to record, a really exciting experience." The vocals on the record, besides being a new venture for Benevento, are a key to the album's cohesiveness but so too was Benevento and Swift's shared vision. "When I decided to work with Richard my vision was to show up and record and not take anything home for post production. I wanted Richard to mix it and then basically send me the tracks to be mastered. I wanted a little bit of a hands-off take and I trusted Richard musically. He didn't really say much or do much for that matter. He didn't really recommend anything or direct us; he had a hands-off approach as well [laughs]. He let us do our thing and kept it really simple to capture the moment and that's what he needed to do with this record. After recording all my other records with lost of complexity and overdubbing and post production madness there was no experimental stuff on my end after the recording process, which I was looking forward to." It seemed that Benevento had found the sound he was looking for in Swift, no wonder he named the album after him.
What Benevento was looking for was a cohesive album where each song plays off of or adds to the others. What gives the record its continuity was Marco composing and writing the music of a certain time and space and Swift capturing that same music played in a certain time and space. This can be heard in songs like "At The Show" and "Witches of Ulster," whose riffs and lyrical hooks seem to dance with one another. Swift is truly one of Benevento's most thought provoking and relatable albums to date, a masterful achievement to be sure.
You can catch Marco Benevento and his band this Friday and Saturday at the 1up on Colfax.
Nate Todd was born on the central plains of Nebraska, but grew up on the high plains of the Texas panhandle. With not much to do in either place, music was his constant companion. His parents dubbed the first two albums he ever owned onto a tape for him. Side A was Bert and Ernie's Sing Along. Side B was Sgt. Peppers. His lifelong love affair with music started early as he practically grew up in a Rock & Roll band, with his father and uncle often taking him out on the road or into the studio with them. Nate began performing live at sixteen and hasn't looked back, having played in numerous bands from L.A. to Austin. At the age of twenty he was bitten by the writing bug, and upon moving to Denver decided to pursue a degree from Metropolitan State University where he recently graduated with a B.A. in English and a minor in Cinema Studies.