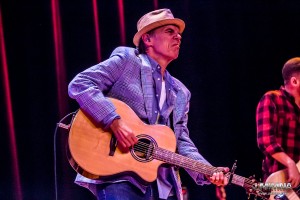 Photos by Jim Mimna
The Scene: The Chautauqua Auditorium never fails to set its own tone with each event it hosts.  The historic building is set in the shadow of the Flatirons and packs a visual wow factor as you amble up the hill to the door, but then drives it home as you take your seat and absorb all the warm, wood ambiance that is standard show experience in the 116 year old structure.  This line-up was a whopper and, as you can imagine, the show was sold-out.  The audience was as anxious to get the party started as they were ready to sit quietly and listen; you could hear a pin drop during some of the quieter sections, while still being deafened by verbal praise between songs.  They were the perfect audience.  Since not everyone can contain themselves to a seat, the back of the auditorium was filled with dancing fist-pumpers virtually all night.  The true cherry on top of it all was when they opened the doors around the sides and back of the room, letting the cool Rocky Mountain breeze roll off the Flatirons right across the audience.  It was divine.
Taj Mahal Trio: Taj Mahal is in a small peer group of artists who have countless other artists credit them with inspiring them to great ends of their own.  Duane Allman, Eric Clapton, and Jerry Garcia (to name a few) all said Taj's early records pushed them to elevate their playing, a legacy few can rival.  When I heard he was playing near me, I knew I had to be in attendance and I am glad I made it.
The first thing that struck me was the tone he played guitar with; it was very rich and warm and spacious, something in his secret tuning made him truly "soundy."  The rhythm section behind him was full, fat, and ample, while still letting Taj shine in the front seat.  As he made his way through the set, his vocals quickly warmed up and he gracefully navigated through some great material like "Fishin' Blues," "Good Morning Miss Brown," and "Corinna, Corinna."  His banter between songs was a nice personal touch to the set as he related music to his family, his career, generational disconnects, and one new reconnect in the comeback of vinyl.  His personal touch on the performance was genuine.  I am very glad I was able to see this go down.
John Hiatt & the Combo:  John Hiatt has had his material recorded over the years by some of music's biggest names like Three Dog Night, Bonnie Raitt, Joan Baez, Joe Cocker, Bob Dylan, Iggy Pop, Emmylou Harris, Buddy Guy, and the list goes on and on.  He is truly a musician's musician.  His commercial success, unfortunately, never matched that of his critical success over the years making him one of music's best kept secrets in the big picture.
Despite all that, his fan base runs deep and this run through the Front Range was no secret judging by the sold-out barn at Chautauqua.  Hiatt's band was made up of noticeably younger players, I assume to help match his energy on stage which he had in spades.  The band, the Combo, was a tight unit and they never took their eye off their conductor.  Doug Lancio on guitar was an animal with the slide and his interplay with Hiatt was quite the dance.  Brandon Young on background vocals filled in nicely behind Hiatt's gravely voice, giving them a harmonic sweetness that I dug.  Nathan Gehri on Bass and Kenneth Blevins on drums laid down a solid rhythm section to tie it all together well.  The sound was the best I had ever heard at Chautauqua; all the old wood was singing along in perfect harmony.
As the set went on, the number of dancing patrons in the back grew.  You could feel the energy in the room swell.  His introduction to "Old People" seemed to be the icebreaker that got the audience laughing and really got the momentum rolling.  From there, the set flowed from mandolin-driven "Crossing Muddy Waters" to the rocking "Detroit Made," his vocals and the band were solid and on-point.  The one song I was hoping to hear, "Memphis In The Meantime," came late in the set after he played the hit song "Thing Called Love."   The minute he hit the first note of the song, I had perma-grin and could not shake it the rest of the night.
Energy: A-
Musicianship: A
Sound: A
Stage Presence: A
Set/Light Show: C
Overall: A-
Capturing life in various forms is what I do. I consider myself an archivist by nature. It is not a career choice that I consciously made, but it is something that has called me. I strive to freeze a moment in time with every frame, a moment that can retell its story with each viewing, forever. I also have a deep passion for music and have been photographing and recording live music for years. Capturing the energy and magic of a live performance in a photograph is one of my passions. In addition, I enjoy photographing in a wide variety of settings, from wildlife scenes to family portraits and everything in between. I am a lover of the earthscapes that we see all around us every day, both natural and manmade, and aim to make unique images that do justice to their beauty. Where others see darkness, I see streaks of light through long exposures. I shoot a very wide variety of subject matter including individual/family portraits, event coverage, landscapes, live concert/performance, HDR, product and commercial photography, architectural, weddings, food, and editorial photo journalism. With artistic expression, I aspire to create visual art that speaks volumes.