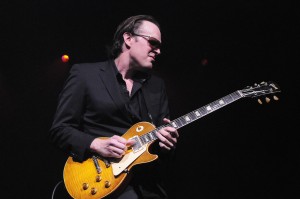 Why You Should Go: Guitar Hero Joe Bonamassa is set to perform an exclusive event concert experience at Red Rocks Amphitheater celebrating the music of Blues legends Muddy Waters and Howlin' Wolf. This tribute concert will be performed one time only, will feature a band different from Bonamassa's regular touring band, and will be filmed for PBS and Palladia. Material for the show will be primarily sourced from the catalogs of Howlin' Wolf, one of the most influential Chicago bluesmen of all time, known for his deep, scratchy voice, and Muddy Waters, considered the "father of modern Chicago blues" and a major inspiration for the British blues explosion of the 1960s, a genre that Bonamassa grew up with and that influences his own music to this day. A full performance will be dedicated to a selection of songs from each artist, followed by a 30 minute set of songs from Bonamassa's own extensive catalog. For every ticket purchased, $5 will be donated to Keeping the Blues Alive which Bonamassa founded to promote the heritage of the Blues to the next generation, fund music scholarships, and supplement the loss of music education programs in public schools.  A great show for a great cause!
Venue:  Red Rocks Amphitheatre, 18300 West Alameda Parkway, Morrison, CO 80465 – (720) 865-2494
Doors: 7:00 pm.
*Price: Tickets start at $65.00
Purchase Tickets
*All prices are gathered from other sources and we are not responsible for mistakes or inconsistencies. They are intended only as guidelines. Please, always call the venue if you desire the most accurate information possible.