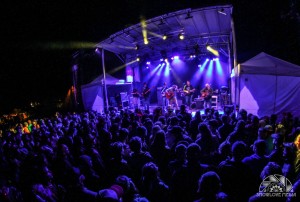 Photos by JohnRyan Lockman
The one summarizing thought about this year's YarmonyGrass: not enough! Just two days of hardly-strictly Bluegrass on the Colorado River was not enough. The weekend boasted blue skies, warm temperatures and so many friendly faces, and recognizable ones too–all the way from Horning's Hideout and Northwest String Summit, where the best of authentic West coast Bluegrass can be found. A month later, many of us were gathered here, at Rancho Del Rio, for the best of what Colorado has to offer of Bluegrass and string music.
Friday
Gipsy Moon kicked off the weekend Friday afternoon with their authentic Folk sound. Though most festival-goers were busy setting up camp well into the evening, the smaller crowd that Gipsy Moon drew were appreciative, twirling along and smiling as we were treated to Gipsy Moon's traditional string music, led by the lovely, raspy-voiced Mackenzie Page.
Wicked Messenger,whose permanent members are Yonder Mountain String Band's Ben Kaufmann and Adam Aijala, took the stage in the evening. Scheduled to perform with this half of YMSB was John Frazier and Darol Anger. However, some unexpected guests were also welcomed onto the stage this night – and warmly. The overwhelming lineup included Allie Kral, Leftover Salmon's Andy Thorn and Railroad Earth's John Skehan. The set list for the Messenger set consisted of Yonder originals, such as "Complicated," "40 Miles From Denver," "All The Time" and a lengthy, hyper "Traffic Jam." The band also broke out a cover of Ben E. King's "Stand By Me."
Although most of the attention was being paid to the main stage, something awfully special was occurring just across the way, at the YarmonyGrass "Saloon Stage." Between headlining acts, the Coral Creek String Band was initiating a string-meets-Funk dance party. With a much smaller setting, enclosed in the outdoor bar space, the sound of the music and the intimacy of the crowd made for a great treat between bigger name performances.
Roosevelt Collier's "Colorado Get-Down" came next, really kicking the Friday night dance party to the next level. Collier's collaboration joined together the likes of the Motet's Joey Porter, Garrett Sayers and Dave Watts, along with Tyler Grant, Andy Thorn and Railroad Earth's Tim Carbone. Collier led the group through some soulful tunes backed by Class A string musicians, keeping with the "Funk-Grass" theme of the night.
And when the majority of the acts of the weekend were led and performed by men, it was awesome to catch Rising Appalachia take the stage. The powerful ladies that front Rising Appalachia brought their soulful, spiritual world Folk to the stage. For some, it was the decided "best act" of YarmonyGrass 2014.
It was then time for part two of the Friday night dance party. Of course, it's not a late night dance party in Colorado without The Motet, who brought us their funky originals like "1,2,3," "Shake My Booty" and "Closed Mouth Don't Get Fed." Frontman Jans Ingber was in his usual fine form, backed by Porter, Sayers, Watts, guitarist Ryan Jalbert, trumpet player Gabe Mervine and saxophonist Matt Pitts. We can always depend on the Motet to bring us exactly what we want to hear (and make us shake our booties too), with Porter's act on the synthesizer and Ingber's stealthy, hip-shaking dance moves.
Saturday
Though Friday was definitely impressive, Saturday night brought us the best live music acts I've seen in a long time. We witnessed not one, but two sets of music from String Cheese Incident's Billy Nershi, whose afternoon "solo" set included collaborations with musicians like Tyler Grant, and included Cheesy favorites, like "Colorado Bluebird Sky," idyllic for our late-summer Rocky Mountain setting.
With The Drunken Hearts' Andrew McConathy and company being the founders of YarmonyGrass, it was no surprise that the Boulder-grown Americana Jam group brought the best of themselves to their set as they warmed us up for an entirely unpredictable, and absolutely awe-inspiring night of music. The Drunken Hearts have an overwhelmingly smooth sound, with McConathy's seductive vocals, backed by the unique sounds of Ted Welles on drums, Cody Russell on pedal steel, Rob Eaton Jr. on electric guitar, and Jon McCartan on bass.
A Railroad Earth side project dubbed The Shockenaw Mountain Boys was possibly one of the most beautiful and musically sound performances I have ever witnessed. With Timothy Carbone, John Skehan, Andy Goessling, Allie Kral and former Railroad Earth bassist Johnny Grubb, the audience experienced a once-in-a-lifetime performance. The more predictable of the music was as good as the rest, which included RRE originals "Crossing The Gap" and "Daddy-O." However, the real magic happened during the unpredictable, with Carbone's dependable charisma bringing a unique stage presence to the performance. Kral belted the lyrics to a passionate version of Dolly Parton's "Jolene," which was easily a crowd favorite. The group debuted their version of the late Dave Carter's, "When I Go;" a beautifully heart-wrenching ode to a fellow musician's recent passing.
Cue the weekend headliner: another all-star lineup of massive proportion–Keller Williams' Grateful Grass featuring Jeff Austin and String Cheese Incident's Keith Moseley. But, wait! There's more! Allie Kral returned to the stage as the first special guest, with the rest following suit. Later, Billy Nershi, Roosevelt Collier and Leftover Salmon's Andy Thorn would join the ranks, almost bringing the stage was to instrumental capacity, (if that's even possible).
The Grateful Grass set kicked off with "Shakedown Street," "Jack Straw," "Loose Lucy" and "Feel Like A Stranger." Keller then introduced Nershi and Thorn for renditions of "Ripple" and "Friend of the Devil." All specials guests cleared the stage and left Keller, Austin and Moseley to perform an absolutely mind-blowing "Eyes of the World>That's It For the Other One>Eyes of the World." Three very different men with three different music styles were so complimentary of each other, and the result was something as perfect as is possible.
The special guests–Kral, Nershi, Thorn, and now Roosevelt Collier as well–took their positions on the stage for the grand finale of the Grateful Grass set. Kral on vocals again with "Man Smart (Woman Smarter)" and the big finish with Moseley's luscious vocals on a fast-paced "Samson and Delilah."
Our last, but certainly not least, set of music we were to witness at YarmonyGrass 2014 was Billy Nershi's Joint Set. Special guests included, well, everyone, but to name a few: Roosevelt Collier, fellow band mate Keith Moseley, Dave Watts, Tyler Grant, Allie Kral, Timmy Carbone, Andy Thorn, John Skehan, Chris Thompson of Coral Creek Band, and many, many more. The crew shifted throughout the set, taking turns on and off the stage while Nershi moved his way through the SCI original, "Jellyfish," along with covers of the Grateful Dead's "Big River" and The Allman Brothers' "Blue Sky." The music went until two in the morning and, with the stars shining brightly overhead, there was no better place to be at that moment than right where we were.
So, these words cannot do this year's YarmonyGrass experience justice. There is no way to know how next year can top it, but I cannot wait to see. Mountain air, clear blues skies and incredible once-in-a-lifetime collaborations makes YarmonyGrass one of the most beautiful and unforgettable summer festivals to date.