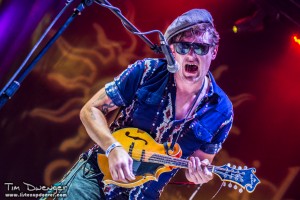 Photo by Tim Dwenger
Why You Should Go: Park House is excited for their 2nd Anniversary Party on Saturday . . . and you should be too!  This year should be even better than last with some great bands inside and out in the parking lot!
Kicking things off at about 1:30 will be Johnny Miller (Groundscore) and Erinn Lukes (Thunder and Rain) – a great Folk and Bluegrass duo made up of two up-and-coming Denver musicians. After a special set of Honky Tonk from the legendary John Macy and his friends, Dead Larry's powerful blend of high energy Rock, Dance and Funk will shake you to core. From Rock driven sea shanties to pulsating dance beats. From Beatle-esque harmonies to spine chilling screams. From shake-yo-booty Funk jams to orchestral themes of space and time travel. Dead Larry is one thing: Original.
Closing out the outdoor stage will be a Park House favorite: Dragondeer.  These guys are a Psych-Blues band from right here in Denver whose singular, reverb drenched take on old school Blues coupled with inspired improvisation has the band making fans in both roots circles as well as indie clubs across Colorado and beyond. After the outdoor stage closes down, Ignatius Reilly will dominate the indoor stage until they shut the place down. This Saturday is set to be a stellar day of music at the Park House, a must see!
Venue:  Park House 1515 Madison Avenue Denver, CO 80206 303-321-0585
Doors: 12:30 pm
*Price: $8 Adv; $10 DoS
Purchase Tickets
*All prices are gathered from other sources and we are not responsible for mistakes or inconsistencies. They are intended only as guidelines. Please, always call the venue if you desire the most accurate information possible.