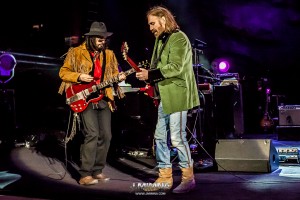 Photos by Jim Mimna
The Scene: There's no doubt that fall was in the air at Red Rocks on Tuesday night as the outdoor concert season drew to a close in Colorado.  Fans from 18-70 dug fleece and down out of their closets made the trek out to Morrison to spend one last evening under the stars, singing along with two of the best in the business: Tom Petty and Steve Winwood.
Opener: Steve Winwood. After kicking off his set with The Spencer Davis Group classic "I'm A Man," Steve Winwood dropped a bomb on the capacity crowd when he revealed that he had never performed at Red Rocks in his more than 40 year career.  The veteran of groups like Spencer Davis, Blind Faith, and Traffic has played all over the world, and with most of the best musicians of his generation and beyond, so to hear this was a bit of a shock to me.  That said he made the most of his first night in Morrison as he delivered classics like "Can't Find My Way Home" and "Low Spark of High Heeled Boys."
Over the course of his hour long set, Winwood only dipped into his solo catalog one time for a version of "Higher Love" that got the crowd on it's feet and he kept them up and dancing with a stellar take on "Dear Mr. Fantasy" before closing the set with the inspired, and undeniably danceable "Gimme Some Lovin'."  It was a scorching debut at Red Rocks for the 66 year old and, even with Petty and his band waiting in the wings, he left me wanting more.
Tom Petty & The Heartbreakers: Tom Petty and his grizzled band of veteran road warriors took the stage at the stroke of 9 and immediately dropped into a cover of The Byrds "So You Want To Be A Rock 'n' Roll Star" that featured a stellar guitar solo from founding Heartbreaker Mike Campbell.  While opening with a cover may seem like a strange choice for a nearly 40 year old band with a wildly popular new record, Petty has history with this tune and even included it as the lead track on his 1985 live album Pack Up The Plantation: Live!.  There's no doubt that longtime fans were thrilled to hear classic that Petty just put back into the setlist last year.
From there, the show was a veritable deluge of hits sprinkled with a few gems from the band's most recent release Hypnotic Eye.  From "Mary Jane's Last Dance" to "I Won't Back Down" to "Free Fallin'" the crowd was singing along at the top of their lungs and Petty frequently seemed to bask in our voices washing over the stage as he coaxed us to sing louder.  That didn't seem to be a problem for the graying crowd as smiling faces all around us belted out each and every lyric like they were in the comfort of their own car on the way to work.
Of the four Hypnotic Eye songs that Petty wove into the mix, "U Get Me High" got, predictably (both due to the radio play and the relevant song title), the biggest reaction from the fans and Petty himself acknowledged the relationship between the song's title and legal Marijuana in Colorado.  The band followed this up with "Rebels" from their 1985 release Southern Accents before Petty joked about the main difference between the 12 string guitar he had just picked up for "Yer So Bad" and a six string is that a twelve string "has twelve strings."  The singer grinned sheepishly as he stepped away from the mic and there were some audible groans from the crowd, but all was quickly forgotten as "Yer So Bad" led into one of Petty's biggest hits; "Learning To Fly."
Ninety minutes after it began, the set closed with the one-two punch of "Refugee" and "Running Down A Dream" which left much of the crowd on the edge of their seats screaming for more.  After several minutes The Heartbreakers obliged and kept the energy at a fever pitch with "You Wreck Me" and "American Girl" to round out a stellar night of music on The Rocks with two genuine legends of the industry.
Energy: A-
Musicianship: A
Sound: A
Stage Presence: A-
Set/Light Show: B
Overall: A-
Music has always been a part of my life. It probably all started listening to old Grateful Dead, Peter Paul & Mary, and Simon & Garfunkel records that my parents had, but it wasn't long before they were taking me to concerts like Starship, Crosby, Stills & Nash, and Huey Lewis & The News. I got the bug to write about music after reviewing an Eric Clapton concert for a creative writing project in high school but didn't really take it up seriously until 2002. Since then I have published countless articles in The Marquee Magazine and done some work for Jambase.com, SPIN Magazine, and various other outlets. I started Listen Up Denver! as a way to share the music information that is constantly spilling out of my head with people who care. Please enjoy!