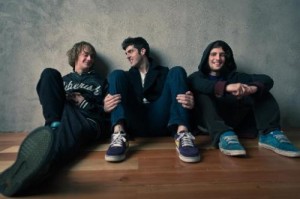 Boulder's Robotic Pirate Monkey has been steadily gaining momentum over the last year and have played several high profile shows including a slot at The Snowball in Avon, a sold-out show at the Fox and now another local show at The Bluebird on Friday night.  Their unique  brand of electronic music is dazzling fans and with the recent release of a new EP they are sure to win over legions of new followers.  Listen Up Denver! caught up with the band via email this week to talk about the new EP, the groups beginings and the samples they use to build some of their tracks. 
Listen Up Denver!: It's been quite the year for you guys, between closing the Crystal Castles show on New Years Eve, tearing down the house at Snowball in March and now the new EP and upcoming tour. Does any moment stand out as most significant?
Robotic Pirate Monkey: It's hard to say, but Snowball was a really special performance for us. Going into it we didn't know what to expect being the first act of the weekend on the dance stage, but when it came time to play there was a much larger crowd than we could have dreamed of. It was our first time playing a show of that caliber and will definitely stick with us as a very memorable show.
LUD: Electronic music is pretty popular these days. How does it feel to stand out in such a crowded Colorado music scene?
RPM: Honestly its flattering. We love making electronic music and love playing shows, but so do a lot of people in the Colorado music scene. It has been incredible to see the success that we have had in such a short time and we could not be more ecstatic, it's really what keeps us going strong. We are so grateful for the popularity we have gained and that is what really inspires us to keep giving everything we have to the music.
LUD: I know from experience that people in Colorado love to have a good time but what is the wildest thing you've seen at a show? Do you have a favorite venue or crowd to spin your music?
RPM: That's a tough one. There have been a few, but what comes to mind was at a festival we recently played where two pitbulls in the crowd got stuck to each other after some puppy love. As far as a favorite venue we'd have to say the Fox Theatre…gotta have love for the home town.
LUD: What do you remember of your very first show?
RPM: Ha, not too much cause it was at a bar that gave us an unlimited bar tab as payment. It was just at our favorite local bars with all of our friends so we definitely had a good time.
LUD: How long did it take to get your first sell out and where was it? It must have been a crazy feeling knowing you could make an entire room of people dance off the wall.
RPM: Our first true "sell out" took us a little less than a year at the Fox Theatre in Boulder. We had packed clubs to capacity before that, but it was our first ticketed sell out at a legit venue. Words cannot describe how good it felt. I swear I had a smile glued to my face for a week afterwords.
LUD: I love all the remixes of classic songs and it seems like your new EP really delves deeper into the record collection. Specifically what influences are shaping your music right now?
RPM: It's really whatever catches our ear at that moment when creativity hits. We love collecting vinyl and sampling that vinyl, so it just depends what we found in the record store that day, or what we put the needle on that morning. Sampling really gives the music a quality that you cannot achieve with synthesizers. You get that warm crisp feel that comes with a sense of nostalgia from hearing a record from the past.
LUD: I notice a lot of Aerosmith samples in your music. Who's the biggest fan and what do you think fits so well with your music?
RPM: Yeah we do like Aerosmith, but really no more or less than any other classic rock bands. We just happened to find two songs that worked with what we wanted to accomplish on the days we made those songs. I think their music works so well because its so recognizable yet not cheesy, so when you hear it your singing along and next thing you know the bass drops and your going wild.
LUD: When it comes to your music, do you guys sit down and consider individual ideas or do you feel like collaboration just comes naturally out of performing it live so many times? No doubt the new EP will have people grooving hard.
RPM: Sort of both. A lot of our music stems from one of the three of us starting an idea and then bringing it to the group to expand on that idea. We have very good chemistry where our ideas, whether individual or collective, are never too far off from our collective style.
LUD: With the explosion of dub-step, where do you see the future of electronic music? It seems like very few artists are willing to really step out of the box and make something unique. Would you agree with this sentiment?
RPM: In a lot of ways yes, especially with the dub step phenomenon that has swept the electronic scene. A lot of the dub step, especially in Colorado, is quality music and pushes genre to new realms. However there is a lot of electronic music out there that is more or less "noise porn". I think as the electronic scene progresses people will start to see through the noise porn and find the quality music.
LUD: Any plans to collaborate with other artists?
RPM: Were always looking to collaborate. No artists in mind particularly right now but collaborating really is the best way to take a new approach on making music.
LUD: The show at the Bluebird should be fun, more than likely a wild party. Can we expect any surprises?
RPM: Definitely will be a party. Definitely some surprises. You'll have to come out and see for yourself though!

I've worked various positions in the music industry with Madison House, Rock The Earth and Bohemian Nights. My dream is to travel the world and seek out all the good tunes, beer and food that make life so special. I have a healthy obsession with live music and I'm thrilled to share the epic moments with you.