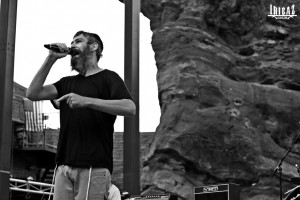 All Photos by Thomas Koppinger – irieazphoto.com
The Scene: 21 years after their first official self-titled release the multifaceted rock band, Blues Traveler, stayed true to a Colorado tradition and came out for their 19th Independence Day performance between the two iconic rocks. Quite a few people were already mid celebration by the time we rolled into the lots. Much to my surprise the crowd was a healthy mix of all ages. EZ-up shade blockers and large umbrellas kept the sun at bay. BBQ grills, small children with water guns, and coolers full of ice cold beer were a common sight. You couldn't really ask for the weather to be any better for a celebration of freedom, and freedom sure was being celebrated. After making a few laps around the tame parking lot party and putting back a few near frozen PBR's, my buddy and I started the long trek towards the venue.  When we finally made it to the top of the ramp the Independence Day Gods shined a light down upon us in the form of unopened, abandoned beers at the gate. It turns out a fair amount of people didn't realize they couldn't bring their own booze into the venue, and I certainly wasn't going to turn down that windfall.
Toad The Wet Sprocket: As we walked in, the place was about half-full, with people scattered throughout the venue.   For as hot as it was in the parking lot, inside was rather cool with a nice breeze. Platinum selling alternative 90's rock band Toad the Wet Sprocket was finishing up their first song as more of the crowd filtered in. I was completely unfamiliar with any of their work but was told multiple times that I'm "sure to recognize at least one of their songs." Lead singer and guitarist Glen Phillips announced that a new album was in the works and played a song from that. For the most part the sound was generic 90's rock but I still found myself tapping my toes and bobbin' up and down to the beat. It was obvious where their commercial success came from judging by the audience's reaction. The two singles "Walk the Ocean" and "All I Want" off of their 1991 release, Fear, gathered the loudest response from the crowd. The set ended around 7 pm and the cool breeze turned into a cold wind but only for a little while.
Matisyahu: At first I didn't quite understand why the promoters booked Hasidic Jewish Reggae star Matisyahu with the rock-n-roll powerhouse, Blues Traveler. I thought maybe it was just an attempt to bring in more of a younger demographic and judging by the cheers that erupted when his live band took up their instruments, that thought wasn't far off base. When I first saw Matisyahu on The Tonight Show a few years ago I was very intrigued by the Orthodox looking man with a large beard beat boxing over reggae guitar riffs. Even though at times I find myself being turned off by music centered on religion with too much focus on politics, I do have to commend him on his ability to spit hot fire over massive riddims.
The band on Monday night came out full of energy and were tight with segues and jams. The grey bearded rapper came running to the front of the stage, after a short jam that led into "Close My Eyes," quoting Bob Marley with the chorus of "every little thing will be alright." This set the tone for the rest of his performance. Religious undertones aside, Matisyahu's music is a new and unique take on the uplifting power of reggae music. His sound is inspiring to say the least and was able to get most of the people sitting to stand up and dance around in celebration of freedom and hope of peace. 
He ended his set roughly at 8 o clock with the very energetic and newly released song "One Day." The track declared that we need to treat each other nicely, stop wars, and build a better future for our children. Honestly, I couldn't agree with him any more. His set was well thought out and carried a message of peace and a strong plea for us to take a step back and stop all of the violence in the world. I hope a few of his words were able to reach the folks in attendance who had never heard of this "beat boxing crazy man on stage," as one lady walking up the stairs put it.
He left his band to jam on stage and now I understood that he wasn't simply billed to bring in a crowd. His message is strong and one that stays true to the spirit of the holiday. It's tough to find a young person in this America as strict in their beliefs as Matisyahu, and he truly was a beacon of truth. It was definitely nice and refreshing to see humans younger than me singing along to the "songs of freedom."
Blues Traveler: Being a novice mouth harp enthusiast myself, I was looking forward to seeing John Popper do his magic for quite some time. The consensus was about 50/50 with people I spoke with in the weeks leading up to the show. Some say they have passed their prime, while others still rang out praise for the Blues legends. Needless to say, I was still excited. By 8:30 the entire amphitheater was packed. I can't say if it was sold out, but it was damn close.  The theme song from Team America: World Police boomed over the speaker system as the band stepped up to the stage. This brought everyone to their feet and to me was a hilarious way to bring out the band.
Popper started everything off with a smooth harp solo followed by the "Star Spangled Banner." The red American blood was flowing strong at this point. After a short and psychedelic jam, the band broke into their 90's hit "Run Around." Of course, out of nostalgia, I had to flail my arms and legs about during the funky dance party that ensued. Soon after, Popper announced that the band would be playing a second set and the crowd went off and the energy got more intense. They are known for "jamming" between songs and they certainly didn't hold back one bit when it came to this.  They touched all of their classics including their first hit single "But Anyway" and ended the set with "Hook" off of their 1994 release Four. Late in the set the band brought out Matisyahu for what was my favorite part of the evening.  Once again, they stayed true to the roots reggae when Blues Traveler busted right into a captivating rendition of Bob Marley's "No Women, No Cry." That one moment stole the entire show for me.
During the short set break, a clip from some late night T.V. show that aired before my time flickered away on the screen next to the stage. Popper came then announced that they were going to play their second studio album Travelers and Thieves in its entirety. Truth be told, I had never even heard the album prior to this aside from a few singles and random songs here or there. That didn't change the fact that I thoroughly enjoyed it from start to finish. The only problem was that most of the enjoying was done sitting down. Unfortunately, it became clear that much like me, most of these people must had been drinking all day and had to be at work in the morning. The combination of those two things led to a very lazy and seated audience for almost the entire second set.
At the time I wasn't able to fully appreciate how awesome seeing Travelers and Thieves performed live was. I gave the album a second listen at my house and in hindsight was actually rather impressed. Most of the album was played spot o, with jams between songs and only a few tempo changes. Chan Kichla even went as far as to say they were trying their hardest to recreate the sound exactly. That to me was a feat all on its own being that most of the songs haven't been played in years.
 My assumption that people were either tired or simply being responsible, came to light as the crowd thinned out near the middle of the second set. Personally, I thought it was a great relaxing way to spend the last night of my long Fourth of July weekend. I only wish the naysayers who talked down on the Blues Traveler experience were able to come along and see for themselves that after 20 years the guys still got it. They worked the crowd like the professionals they are.  It was a very pleasant evening overall, and a Colorado tradition that I hope will stick around for a quite some time.
Energy: C+
Sound: B
Musicianship: A
Stage Presence: B
Set/Light Show: C
Overall: B-
I rode my skateboard from school in 7th grade to my buddy Vince's house where he put on the song "Perfect Government" by NOFX and I was hooked. The next day I bought the album Duh by Lagwagon. The next year I saw Against Me! at the Starlight Theater in Fort Collins, my mom dropped me off. I've since devoted every waking hour to anything done with passion. My speakerbox bumps everything from Lil' Wayne to Pablo Casals. I was never very good at making music, but I am damn good at listening to it. I've been filling up yellow notepads with random thoughts and misspelled words for as long as I can remember. I enjoy whiskey of all sorts, Newport cigarettes and the company of my family. I've got an addiction to run-on sentences that I'll probably never cure. A solid handshake with a stranger who has become a friend over a few beers means the world to me. You'll often find me wide eyed and wandering with an ear to ear grin. I live for funky break beats and spreading the love.