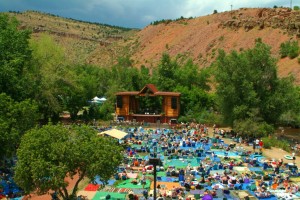 The Songwriter Showcase is a nationally-recognized songwriter competition, open to anyone who writes and performs original music, and who is not currently signed to a major recording or publishing deal. Contestants are judged on the quality of the song's composition, vocal delivery, and the overall performance. Past showcase finalists include Erica Wheeler, Don Conoscenti, Karen Pernick, Deb Talan, Dan Sheridan, Dee Carstensen, Mitch Barrett, Sarah Sample, Chuck E. Costa, Liz Longley, 2010 winner Megan Burtt, and many others.
Once again, the Planet Bluegrass judges were impressed and inspired by the consistently great songs submitted from around the world. After closely listening to nearly 500 entries, the panel of songwriting judges selected these 10 finalists to perform on the Folks Festival main stage on August 19, 2011.  A special shout-out goes to Boulder, CO resident Kyle James Hauser!
Honorable Mentions
American Nomad — San Francisco, CA
Mai Bloomfield — Venice, CA
Blair Bodine — Ambler, PA
Randy Brown — Mineola, TX
Bronwynne Brent — New Orleans, LA
Caitlin Cannon — Brooklyn, NY
James Casto — Atlanta, GA
Carrie Cheron — Somerville, MA
Connor Garvey — Portland, ME
Rachel Harrington — Seattle, WA
Krista Herring — Portland, OR
Phil Henry — Rutland, VT
Paul Jacobsen — Salt Lake City, UT
Laura Meyer — Los Angeles, CA

Nikolas Metaxas — Boston, MA
Cari Minor — Boulder, CO
Louise Mosrie — Nashville, TN
Terra Naomi — Los Angeles, CA
Haroula Rose — Los Angeles, CA
Amber Rubarth — Brooklyn, NY
Jacob Russo — Glenwood Springs, CO
Brooke Brown Saracino — Northampton, MA
Talia Segal — Washington, DC
Mark Stepakoff — Boston, MA
John Stewart — Ottawa, ON
Jean Synodinos — Austin, TX
Jesse Terry — Stamford, CT
Anna Vogelzang — Madison, WI
Music has always been a part of my life. It probably all started listening to old Grateful Dead, Peter Paul & Mary, and Simon & Garfunkel records that my parents had, but it wasn't long before they were taking me to concerts like Starship, Crosby, Stills & Nash, and Huey Lewis & The News. I got the bug to write about music after reviewing an Eric Clapton concert for a creative writing project in high school but didn't really take it up seriously until 2002. Since then I have published countless articles in The Marquee Magazine and done some work for Jambase.com, SPIN Magazine, and various other outlets. I started Listen Up Denver! as a way to share the music information that is constantly spilling out of my head with people who care. Please enjoy!