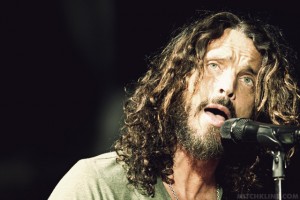 All Photos By Mitch Kline
The Scene: Imagine nearly 10,000 people anticipating a show they've waited nearly twenty years to experience. I've been to plenty of "sold out" Red Rocks shows, but this show was packed with fans pumping fists in the air, top to bottom. It appears Soundgarden fans, and grunge fans in general, haven't gone anywhere and they're just itching to breathe life back into the scene.
Opener: The Mars Volta.  As a fan of The Mars Volta, I was almost as excited about their opening set I was to see Soungarden for the first time in nearly twenty years.  Led by Omar Rodriguez-Lopez and Cedric Bixler-Zavala, The Mars Volta's opening set consisted of almost entirely new material, before closing out their set with The Bedlam in Goliath's "Goliath."  The set of mostly new songs left me hoping for a new The Mars Volta album and supporting tour soon.
Soundgarden: Soundgarden fans have been waiting for this for a long time.  When Chris Cornell finally emerged with guitar hoisted overhead, his smile indicated he was as happy to be at Red Rocks as the enthusiastic crowd.  From the opening notes of "Searching With My Good Eye Closed," it was obvious Cornell, bassist Ben Shepard, guitarist Kim Thayil, and drummer Matt Cameron weren't about to let their longtime fans down.  The two plus hour set drew heavily from Badmotorfinger and Superunknown, covering most of the band's hits.
The band didn't waste much time between songs, with very little stage banter beyond thanking the crowd and Cornell's introduction of band members late in the set. Soundgarden has never been exciting to watch on stage, instead letting the music speak for itself. It was that way last time I saw them, at Fiddler's Green Lollapalooza in 1992, and that was the case at Red Rocks as well.  Ben Shepard creeped around the stage, bass hanging at his knees, laying down thundering bass lines and Kim Thayil's Guitar God status was upheld with spot-on solos all night long. Not surprisingly, Chris Cornell's crisp, clear voice and extended vocal range played particularly well with Red Rocks special acoustics.
Hard core fans should have also been pleased with takes on "Ugly Truth" and "Big Dumb Sex" from 1990's Louder Than Love.  The band ended their set with a thundering version of "Beyond the Wheel" off the 1988 album Ultramega OK. As lightning lit up the sky to the west, the band reemerged for a four song encore, closing out the night with the Badmotorfinger sludge monster "Slaves & Bulldozers."
When all was said and done, the setlist featured a lot of "hits," but the band played them well, and only the most jaded fan would be disappointed in this show.  The sound was fantastic, and the energy from the band and fans was palpable.
Setlist: Searching With My Good Eye Closed, Spoonman, Let Me Drown, Jesus Christ Pose, Blow Up the Outside World, The Day I Tried to Live, My Wave, Fell on Black Days, Ugly Truth, Big Dumb Sex, Outshined, Nothing To Say, Rusty Cage, Black Hole Sun, Burden In My Hand, Pretty Noose, Superunknown, 4th Of July, Beyond The Wheel
Encore: Hunted Down, Face Pollution, Mailman, Slaves & Bulldozers
Energy: A
Sound: A
Musicianship: A-
Stage Presence: B
Set/Light Show: C+
Overall: A-