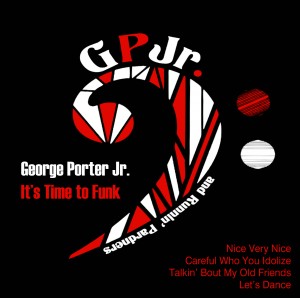 If you don't know much about New Orleans bass player George Porter Jr., let's bring you up to speed. Although from a music loving family, Porter's story really started when he began sitting in with Earl King as a teenager. The Earl King gigs are how Art Neville got introduced to Porter's playing, and the cornerstone for the Funk band The Meters was laid. The Meters released their debut album in 1969, and recorded eight albums before breaking up in 1977. The music of The Meters, and the bass playing of George Porter Jr., help lay the foundation of Funk.
Porter and other members of The Meters still keep the Funk going strong with The Funky Meters, The Meter Men, and occasionally The Original Meters but, since 1990, Porter has been running strong with his project George Porter Jr. & The Runnin' Pardners. Not only does Porter tour with multiple outfits, he also stays connected to the local music scene in New Orleans. If you are ever in New Orleans on a Thursday night, check out the "Trio" at The Maple Leaf, featuring George Porter Jr. on bass, Johnny Vidacovich on drums and a rotating third member usually on keys. It's that deep connection to the New Orleans music scene that birthed Porter's new EP, It's Time To Funk, which is the eighth release by George Porter Jr. & The Runnin' Pardners. Over the past year and a half, Porter has been spending a lot of his time collaborating with friends and fellow musicians from New Orleans and beyond.  As a matter of fact, he has written twenty-eight songs in the past eighteen months and many of them are collaborations. According to Porter, this EP is just a small taste of what he has been working on.
It's Time to Funk is a twenty minute long EP with four tracks, but Porter squeezes a lot of diversity into the short time frame. Over his career, Porter has played with a list of musicians as long as the Huey P. Long Bridge in his hometown, and his playing shows virtually no limits. It's no wonder so many musicians seek him out to sit-in. The guests on this EP come in the form of the songwriters who collaborated with Porter, and his usual Runnin' Pardners are featured on the album: Brint Anderson, Michael Lemmler, Terrence Houston, Khris Royal, with guest Tony Hall of Dumpstaphunk.
The first track, "Nice Very Nice," co-written by Runnin' Pardner Michael Lemmer, starts the album of with a Calypso vibe, but with Porter and Houston on the rhythm section, there is always some Funk in the pocket. The song has a bright, bouncy feel, and the lyrical theme of checking a girl out while walking by lightens the mood up even more. An Allman Brothers-esque slide solo on electric guitar breaks the middle of the song up before they head back to the beach in Funky Kingston.
"Be Careful Who You Idolize" is co-written by Johnny Vidachovich, who Stanton Moore of Galactic idolized so much he hounded him for a year before Johnny V. took the young Moore on as a student. The opening synthed-out keys mellow into a deep organ bellow as the soulful and sentimental side of Porter comes out. The song warns about who you put your faith in, because you might get burned, and you can hear the experience-driven sincerity in Porter's vocals. 50 years in the music game has taught Porter a lot of lessons, and one thing he has learned is who to pick as co-writers, because this track is as smooth as a coconut flavored Snowball on a sweltering day.
Along with a lot of life lessons, Porter has acquired a lot of musical memories and he taps into some of those in "Talkin' Bout My Old Friends." Since Porter was wanting to express his sentimental side, he called on Nola neighbor Anders Osborne who wrote the book on "Sentimental Times." If you love New Orleans, you love the image of Porter and Osborne trading stories and writing a song together. The track is filled with references of Porter's past in the New Orleans music scene, like hitting the famed Dew Drop Inn in 1961 as a kid, and the song is filled with a reflective tone as well.
"Let's Dance" closes out the EP, and it opens up the dancefloor. Co-written with Dumpstaphunk's Tony Hall and Porter's long time friend Denise Sullivan, "Let's Dance" does what Porter has been doing since the mid 1960s; it get's people off their feet and in the groove. Porter shows many sides on this EP, and if it is only a fraction of what he has been working on the past year and a half, we should all look forward to what is coming.

Brian Turk grew up in the shadow of the Catskill Mountains, near Woodstock, NY. He comes from a family of music lovers, audiopliles, Dead Heads and avid concert goers.The musical magic that can only be created in the Catsklills, both past and present, is what Brian cosiders the epicenter of his music addiction. The music of The Band, and most recently The Levon Helm Band, is the soundtrack of home for him. Brian's mother took him to his first concert at 5years old...it was Johnny Cash and Roseanne Cash at Jones Beach Amphitheatre. For Brian, music is a family affair. He feels the same way about live music...we all convene to celebrate together. Brian's writing life started when he wrote his favorite author, southern fiction writer Clyde Edgerton, a fan letter at age 13. When most kids were idolizing baseball players and television, he was worshipping writers and musicians. The two became friends and Clyde shared his craft with Brian. The next year Brian attended Duke University's Young Writers Camp. This is the extent, of what Brian considers, his "formal" training in writing. From then on his goal was to capture snapshots of life through words. Brian has been involved with live music in various facets over the years, and combined with his enthusiasm and love for Denver's music scene, he creates a vivid description of what he sees and hears. If you see him out at a show, dancing with a notebook in hand, say hello.