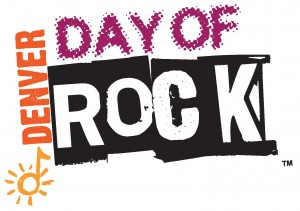 Why You Should Go: The inaugural Denver Day of Rock was held on June 6, 2009 with two stages of music. Since then Denver Day of Rock has continued to grow exponentially with each running year. In 2013, over 100,000 people listened to over 25 bands. 2015 is shaping up to be the best Denver Day of Rock yet! With amazing sponsors and volunteers that help make the event possible and 25 great local, regional, and national bands coming in for the event including Mat Kearney, St. Paul and the Broken Bones, Roger Clyne and the Peacemakers, Fox Street, Orgone and many more! Click HERE for the full lineup.
The 6th annual Denver Day of Rock benefits Amp the Cause which supports 50 non-profit organizations in the Denver Metro area. Denver Day of Rock will welcome nearly 100,000 attendees throughout the event. Denver Day of Rock is free, open to the public, and family friendly. Music will showcase local, regional and national musicians from various genres. There will be five total stages, one at Curtis, one at Champa, one at Welton, one in Skyline Park 1, and one at Skyline Park 2. In addition to the music we will have vendors and food trucks at the event as well as alcohol sales. Check the Denver Day of Rock website for more details about transportation and lodging as the event approaches.
Venue: Downtown Denver – 16th St Mall
Doors: 2:30 pm
*Price: Free!
*All prices are gathered from other sources and we are not responsible for mistakes or inconsistencies. They are intended only as guidelines. Please, always call the venue if you desire the most accurate information possible.
Nate Todd was born on the central plains of Nebraska, but grew up on the high plains of the Texas panhandle. With not much to do in either place, music was his constant companion. His parents dubbed the first two albums he ever owned onto a tape for him. Side A was Bert and Ernie's Sing Along. Side B was Sgt. Peppers. His lifelong love affair with music started early as he practically grew up in a Rock & Roll band, with his father and uncle often taking him out on the road or into the studio with them. Nate began performing live at sixteen and hasn't looked back, having played in numerous bands from L.A. to Austin. At the age of twenty he was bitten by the writing bug, and upon moving to Denver decided to pursue a degree from Metropolitan State University where he recently graduated with a B.A. in English and a minor in Cinema Studies.