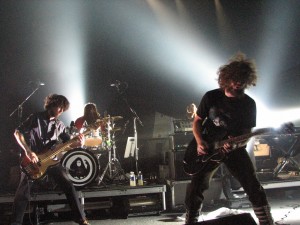 The Scene: The crowd at Red Rocks on Thursday night was extremely diverse.  Sure, that familiar pungent aroma hung in the air for the duration of the show, and you certainly didn't have to look hard to spot a few folks with dread lochs and Grateful Dead tattoos but this is Colorado so that wasn't something that took me by surprise.  What did take me by surprise at a show like this was that there were so many people packing the benches who appeared to be upper middle class, hard working, intelligent Coloradians who were looking a bit more preppy than I'm used to on the Rocks. A few rows behind us, a family of five enjoyed cheese, olives, quinoa and more that they had come straight from Whole Foods, while nearby a group of teenagers chatted excitedly as they waited for their favorite band to take the stage.  It was clear everywhere you looked that people had been looking forward to this event all summer and they were expecting Jim James and the rest of My Morning Jacket to deliver an epic performance.
My Morning Jacket: When the lights went down an enormous roar reverberated off the rocks and My Morning Jacket opened the show with arguably the best song off their new album, "Victory Dance."  The song begins with almost chant like melodies and features a catchy and funky keyboard line.  The first verse showcases James' soulful voice accompanied by a quiet layering of instruments, then the song begins to build though the second verse with a thunderous bass line accompanied by a basic, but driving, drum beat.
The first part of the set featured several tracks off the groups new album including title track "Circuital" which provided James with another opportunity to show off his soaring voice, then, much to the delight of longtime fans, The Jacket launched into some of their older material.  Many of these songs seem far more appropriate for a sing-along than the newer tunes and most notably the crowd joined James and the band on "Off The Record."  "You've got to want to re-arrange. And keep it off the record. Off the record. You've got to know that we will change, and keep it off the record," we all sang in unison.  I feel that this, and most of the tracks off the album "Z," as well as some of their other earlier material, almost form a whole genre of their own.  The songs are poppy but edgy at times, with mature but simple melodies.  Simply put, it's classic music that is going to live on for years.
The band then changed gears and went back to the new material playing a quirky tune that most people can relate to, "Outta My System."  The songs principle character is a maturing man who is looking back on his younger days and seeing the folly of his ways without regret.  In fact, he seems content that he made mistakes and lived his life as he starts to settle down.  It's a different kind of coming of age story and one that rings very true.
A few songs later, when James came to the microphone and asked the crowd how they were doing, he was rewarded with a solid wall of cheers that only hinted at the pent up energy in the crowd.  As we calmed and focused on the leader of this strange and powerful band he said: "This is amazing. Between the wind, and just being here, this feels like a really holy event."  These simple words all but confirmed where Red Rocks stands as one of artists' favorite venues to play in the entire world.  It has a magical feeling to it that is hard to describe to someone who has never witnessed what can go down between Ship and Creation Rocks.
Throughout the night I couldn't help but notice that the crowd was a bit more chatty than usual at a show with this kind of intensity, and I came to the conclusion this was likely due to the wind and how it seemed to be carrying the sound away from our spot a little higher up in the stands as it gusted through the venue.  The sound was probably the worst I've heard it up top at Red Rocks, but if you're going to have compromised sound at any event, it may as well be a band that brings an enormous amount of energy and stage presence.
Highlights from the 2+ hour show included a thought provoking "Slow Slow Tune" that served as a catalyst for introspective thoughts of love and happiness for all its listeners.  As James crooned away couples could be spotted holdings hands and gently kissing one another while basking in the comforting melody.  Extended versions of "Lay Low" and "Touch Me I'm Going To Scream" were also very well played and the band also ran through several songs that are considered big rarities in their live catalog: "The Bear," "Strangulation," and "Honest Man" all came as a big surprise to even The Jacket's more die hard fans in attendance.
In somewhat predictable fashion the bands four song encore showcased "Still Holding Onto Black Metal," a song that is quickly becoming a crowd favorite and is featured on the groups newest album and the epic show closer, "One Big Holiday."  From the first notes of "Holiday" fans were pumping their fists in the air and the energy continued to intensify as guitarist Carl Broemel and James slayed the songs epic guitar riff and solos.  It's easy to see why this song remains a crowd favorite and it was a perfect choice to close a near perfect night at Red Rocks because it left everyone on the edge of their seats wanting more.
Before leaving the stage Jim James stepped up to the mic one last time and told us what an amazing time they had by saying: "this really has to be one of the coolest things we've ever done."  Red Rocks has a special place in many people's hearts, and artists' clearly enjoy it as much as the audience does.  We are lucky to have such a legendary venue right down the road from us!
Energy: A
Sound: B- (Primarily due to wind)
Musicianship: A+
Stage Presence: A
Set/Light Show: A-
Overall: A-