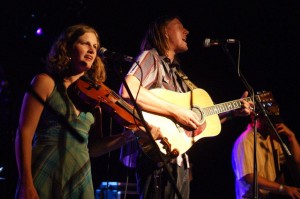 Photo By Jeff Hyatt
The Scene: The current owners of Cervantes' and The Other Side, have created a great space at the Other Side over the past few years. The exposed brick, great lighting and artwork, as well as an amazing sound system, all contributed to another smile-filled night in the midst of Denver's awesome live music scene.  The night got off to a slow start at Cervantes' Other Side as Last sheet on the Roll eased us into a high energy, dance-filled Thursday courtesy of Dead Winter Carpenters. Since Last Sheet on the Roll had three members of Whiskey Tango on the roster I expected more bare feet, and at least one hula-hoop. Instead the crowd was diverse, mostly shoed and obviously very happy with the soulful set the Dead Winter Carpenters provided.
The Opener: Last Sheet on the Roll is relatively new on the scene and is comprised of three members of the Denver based psychedelic jamgrass band Whiskey Tango (Luke Kennedy on mandolin and vocals- instead of his usual seat at a kit, Matt Gallagher on Banjo, Bill Wells on bass) and friend Chuck Martinez on guitar and vocals. They leaned toward more traditional bluegrass with their even-keeled sound as compared to the fast, rowdy, and improvisational debauchery Whiskey Tango creates.  Though the crowd was half-listening, those who were got an earful of some clean string playing.
Dead Winter Carpenters: Dead Winter Carpenters (Jenni Charles fiddle/vocals, Jesse Dunn guitar/vocals, Dave Lockhart upright bass, Sean Duerr guitar/vocals) walked out on stage with personality, confidence and an obvious intention to make us move.  Hailing from the Lake Tahoe area, the band brought some fresh lake air with them and it hit us with a vibrant gust of positivity.
The DWC have not been touring together for long, but obviously have great communication with each other as musicians and their set was full of surprises.  They combined different musical styles into one that is distinctly their own. The set was full of well-written originals, which showcased their strengths, and highlighted each individual member's expertise and character.
While I am rarely impressed by covers, DWC rocked an amazing version of Neil Young's "Into The Black (Hey Hey, My My)" and, as if to show us that they are not just musicians but also music lovers, they also threw-down on a funky, aggressive hip-hop number, MIA's "Straight to Hell."  Most hip-hop covers come off as just plain silly as evidenced by The Gourd's "Gin and Juice," but these guys brought the funk.
Jenni Charles' fiddle blazed the entire evening, and her sexy hip-shaking strut was adorable yet intimidating. The rasta worthy Reggae groove half-way into the set got everyone's head right and complimented the Medical Marijuana Dispensary ad on our wristbands. The drums held a cadence and the upright bass gave a beautifully demanding thump. A well-played Gibson Les Paul and a precisely picked acoustic Martin added to the eclectic sonic imagery of this band. Dave Lockhart (bass) was extremely animated, holding his upright in the air and pulling his side-cocked trucker hat down low.
To top off the evening Mike Tiernan of The Motet joined the Dead Winter Carpenters on stage for an initially cryptic jam into a killer version of the late blues legend Son Seals' "Funky Bitch," a song that Phish introduced to a whole new audience.  Considering Phish's Tahoe and Denver shows are soon upon us, well, it just seemed perfect.
Dead Winter Carpenters were punchy and bright, and fast but not muddled.  If you want to see an energetic band with tons of personality and musicianship, check out the refreshing sound of Dead Winter Carpenters.
Energy: A+
Sound: A-
Musicianship: A-
Stage Presence: A
Set/Light Show: B-
Overall: B+

Brian Turk grew up in the shadow of the Catskill Mountains, near Woodstock, NY. He comes from a family of music lovers, audiopliles, Dead Heads and avid concert goers.The musical magic that can only be created in the Catsklills, both past and present, is what Brian cosiders the epicenter of his music addiction. The music of The Band, and most recently The Levon Helm Band, is the soundtrack of home for him. Brian's mother took him to his first concert at 5years old...it was Johnny Cash and Roseanne Cash at Jones Beach Amphitheatre. For Brian, music is a family affair. He feels the same way about live music...we all convene to celebrate together. Brian's writing life started when he wrote his favorite author, southern fiction writer Clyde Edgerton, a fan letter at age 13. When most kids were idolizing baseball players and television, he was worshipping writers and musicians. The two became friends and Clyde shared his craft with Brian. The next year Brian attended Duke University's Young Writers Camp. This is the extent, of what Brian considers, his "formal" training in writing. From then on his goal was to capture snapshots of life through words. Brian has been involved with live music in various facets over the years, and combined with his enthusiasm and love for Denver's music scene, he creates a vivid description of what he sees and hears. If you see him out at a show, dancing with a notebook in hand, say hello.