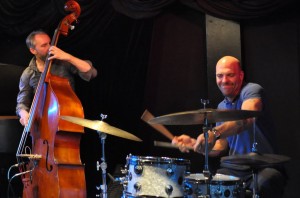 All Photos By Tim Dwenger
The Scene: There was quite an eclectic bunch of folks at Dazzle last night for The Bad Plus.  I think the age range in the room was about 20-75 which goes to show what a wide breadth of appeal the jazz trio has developed over the years.  There were casually dressed college kids enjoying the music right alongside professionally dressed couples out for a night on the town, and with the exception of the occasional rattle of a fork and knife on a plate, everyone was perfectly silent as they sat in awe of what was going on up on the stage throughout the 70 minute set.
One thing that can't go without mentioning here is one of the standout items on the food menu that I tried for the first time last night: The Ragonetti macaroni & four cheese pasta dish.  At just over $14 it's a bit of a pricey plate of Mac & Cheese, but this is not some boxed Kraft dinner out of your youth, this is the real deal.  Dripping with creamy cheese the noodles were perfectly cooked and the blend of cheeses excited my palate in a way I wasn't sure was possible from this kind of meal.  Nice work Dazzle!  Keep up the great food offerings that go so well with the music.
The Bad Plus: These guys are amazing, there really is no other way to describe the level they play at and the way they play together.  From the first notes of the show's opener "Apollo," by Igor Stravinsky to the closing notes of the sets lone encore, the Aphex Twin track "Flim," the three musicians seemed to feed off each other.  The music would ebb and flow as pianist Ethan Iverson and bassist Reid Anderson sparred melodically with each other over the intensely polyrhythmic playing of drummer Dave King.
Throughout the evening King was the one to watch as his face lit up with excitement as often as it contorted with concentration.  His passion for the instrument was palpable as he rose from his seat to strike the cymbals precisely on their outer edge and then crumpled back down with his face inches from the snare drum as his stick snapped against it.  During several songs, including the world premier of brand new composition of his entitled "For My Eyes Only," King augmented his standard kit by placing a toy drum on his snare head causing several in the audience to shake their heads in disbelief.  The extreme care with which he placed the toy drum on the ground when he was done with it, ensuring it didn't make a sound, gave some insight into how much thought he and bandmates give to every noise that is created on the stage.  It was clear that every note, drumbeat, or other sound we heard come from the trio was a part of the composition and was meant to be heard.
Aside from the two "covers" that bookended the set, the rest of the show was made up of Bad Plus originals that were primarily pulled from two albums.  The trio performed "1979 Semi–Finalist," "Cheney Pinata," and "Dirty Blonde" from their 2004 offering Give, while they featured "You Are," "My Friend Metatron," and the title track from their 2010 release Never Stop. While their albums are an entertaining challenge to listen to, The Bad Plus is in their element in the live setting.  Watching these three men work together on stage gives the listener an appreciation for their music that cannot be conveyed solely through a set of speakers.  They are wizards of modern jazz and musical treasures who have been making audiences swoon for more than 10 years and hopefully they will be on the scene for many, many years to come.       
Energy: A
Sound: A
Musicianship: A+
Stage Presence: A-
Set/Light Show: N/A
Overall: A
Music has always been a part of my life. It probably all started listening to old Grateful Dead, Peter Paul & Mary, and Simon & Garfunkel records that my parents had, but it wasn't long before they were taking me to concerts like Starship, Crosby, Stills & Nash, and Huey Lewis & The News. I got the bug to write about music after reviewing an Eric Clapton concert for a creative writing project in high school but didn't really take it up seriously until 2002. Since then I have published countless articles in The Marquee Magazine and done some work for Jambase.com, SPIN Magazine, and various other outlets. I started Listen Up Denver! as a way to share the music information that is constantly spilling out of my head with people who care. Please enjoy!