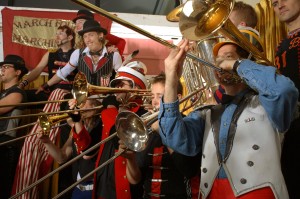 Photo By Ethan Horns
My first encounter with March Fourth Marching Band was this June at Wakarusa Music Festival.  I remember how happiness came marching into the Ozarks in the form of this spectacle of brassy horns, booty shakin' percussion, stilt walkers, and dancing girls.  Since then, March Fourth has crisscrossed our state several times, bringing their big band meets bigger party sound to venues both large and small.  They recently performed five times in three days at Telluride's Jazz Festival.  Currently in New York City, the band took a few moments to answer 20 Questions for Listen Up Denver!  Don't miss March Fourth when they come striding back into Colorado this Thursday, August, 17th to play a gig at the Aggie Theatre in Fort Collins.
Listen Up, Denver!: How did you come up with your band's name?
March Fourth Marching Band: March 4, 2003 was the date of our first show, which was a Fat Tuesday Mardi Gras party we were planning in conjunction with the band.
LUD: What is the line-up of the band?
M4: 8 or so horn players (trumpet, trombone, sax), 5 or so percussion players (snare, bass drum, cymbals, etc), 1 electric bass, 1 electric guitar.
LUD: How would you describe your sound?
M4: Fun! Loud! Big! Brassy! Boogie!
LUD: Who would you count as major influences on your band?
M4: Rebirth Brass Band, Extra Action Marching Band, Yard Dogs Road Show, Lions of Batucada Samba band.
LUD: How did you guys get started playing together?
M4: We put the band together to play a Mardi Gras party.
LUD: Does anyone in the band have any formal musical training?  If so, what is it?
M4: It ranges from self-taught musicians to Berkeley College of Music grads, and everything in between.
LUD: Where was your first gig together and how did it go?
M4: In Portland, OR at a Mardi Gras party. It was so much fun we're still doing it 8 years later!
LUD: What's your favorite memory of playing together?
M4: One summer our tour bus broke down on Vancouver Island in Canada and we had to cancel a festival appearance, but we'd been planning on playing that day so we decided to go renegade and play unplugged on the upper deck of the ferry. We sold 40 CDs!
LUD: Are you playing any shows coming up that you are particularly excited for?
M4: We're going to Florida for the first time this November, so we're pretty excited about those shows.
LUD: What is your favorite song to cover?
M4: "Get It All" by Mandrill
LUD: What is the strangest request you've had at a show?
M4: Play "Louie Louie" while marching through a hotel ballroom at 8 am (we did it too)
LUD: What was the first song you wrote together as a band?
M4: "Marionette" is the only song that we have written as a band.
LUD: Do you still play that song live?
M4: Yes, particularly for audiences with kids, since there is a puppeteer dance that goes with it.
LUD: Have you released any of your material yet?
M4: Yes, we have three albums out and another on the way, due out this fall.
LUD: What is your favorite venue in Colorado, and why?
M4: There are so many great ones, we can't pick just one. The Gothic in Denver is sooooo beautiful.  State Bridge is a really cool place doing some really cool things.  Belly Up has incredible sound and the set-up is perfect for seeing an intimate show.
LUD: If you could play on any stage in the world where would it be and why?
M4: International music festivals
LUD: If you could play with any band or artist, who would it be and why?
M4: Michael Franti (he's got such an uplifting message, it would be a feel-good tour) or Gogol Borderllo (it would be a rockin' rowdy good time)
LUD: What is the most outlandish thing your band would consider putting in your backstage rider?
M4: A jar of mustache wax.
LUD: What is your bands' drink of choice?
M4: Depends on who you ask, but good whiskey and cheap beer are always on hand.
LUD: Can you name a few local Colorado bands that are really impressing you right now?
M4: Paper Bird out of Denver is such a sweet band, and the Squirm Burpee Circus is doing great things too!