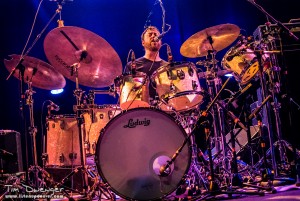 Photo by Tim Dwenger
Why You Should Go: Not only does this quintet play tight and vicious versions of some of the most complex songs in the Grateful Dead's repertoire, but they play them with a rawness & energy absent from the stage since the "Live" Dead era. More importantly, all of the jams are wild and incredibly adventurous. Russo is a beast behind the kit who's in the peak of his career. Metzger is a criminally underrated guitarist who has a chameleon-like ability to alter his sound to compliment any situation. Dreiwitz's intensity is unmatched by anyone, while Benevento spouts crazy tones and layers of sound that mix the best of what each keyboardist in GD history brought to the band. Finally, add Hamilton, whose voice and biting leads help push this ensemble over the top.
To witness the transcendent moments this ensemble is capable of, check out this mind bend romp from "Black Throated Wind" (Jam) -> "Royals" (Jam) -> "Black Throated Wind" -> "Jack Straw" (Jam) -> "Touch of Grey" from the Brooklyn Bowl in March of this year.  Please note that Dreiwtiz was on tour with Ween for this performance so his spot is filled by Oteil Burbridge.
Venue: 1st Bank Center, 11450 Broomfield Lane, Broomfield, CO 80021 – (303)410-8497
Doors: 5:30 p.m. Showtime at 6:30 p.m.
*Price: $42.50 Purchase Here
*All prices are gathered from other sources and we are not responsible for mistakes or inconsistencies. They are intended only as guidelines. Please, always call the venue if you desire the most accurate information possible.