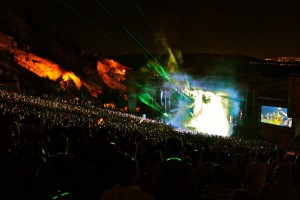 All Photos by Krystle Blackburn and Property of Pretty Lights Music
The Scene: Saturday night marked the return of one of Colorado's favorite producers and electronic music artists to the Red Rocks Amphitheater. Derek Vincent Smith, better known as Pretty Lights, is a native of the Front Range and never fails to bring out a massive crowd of vibrant color wearing, glow stick tossing, beat enthusiasts. The parking lot was an epic party in and of itself. I made a few laps and got comfortable in the lower south lot where all of the "party busses" were located. Based on rumblings I had heard from a few of my more jaded friends I expected a much younger group of people, but was fairly surprised by the fact that a good majority were around early and mid 20's. Being from the same age group I fit in quite well aside from my wardrobe not being nearly as bright, or eyes nearly as wide.  Doors opened at 6:30 and I found it rather interesting how quick the parking lots cleared out. Everyone seemed to be overflowing with excitement and wanted to find a good spot inside the venue as soon as possible.
Big K.R.I.T: Southern rapper and Producer Big K.R.I.T. made his first appearance on the hip-hop music scene in 2010 with his debut album K.R.I.T. Wuz Here. Since then he has released one other album and garnered a decent following and a large amount of critical acclaim. I could only imagine what it must have felt like to stand in front of that crowd after being in the hip-hop game for only 2 years. Playing REd Rocks is a huge accomplishment that most artists work towards their entire lives and never get to experience.
I was rather unfamiliar with his music beforehand, but I hold a special spot in my soul for crunchy down south hip-hop. His snare claps and heavy bass grabbed my attention from the start. The fast pace of his flow with his southern drawl got feet moving and definitely built up the energy for the following acts.
With songs like "Country Sh*t" and "Moon and Stars" he stayed true to his Mississippi roots and definitely made a fan out of me. Personally, I enjoyed his set more than anyone else's, except of course for Pretty Lights'.  When he finished his set full of southern flavor the rocks were almost three quarters full and he provided a great segue into Gramatik's second set of the evening.
Gramatik: Not only was Saturday a night for Pretty Lights himself to show his skills, it was a showcase of a few members from the Pretty Lights Label. Gramatik is a DJ and producer that cannot be defined by one genre. His set was short, but his beats were clean and put down without a hitch and he even brought out a guitarist to play with him for a portion of the show, adding a nice organic feel to the computer generated tunes. For the second song of his set he asked the audience to all pull out their smart phones and video tape it for an upcoming video project he will be working on. Almost everyone complied and while I'm not sure what exactly he has in store, I'm very interested to see how it will work out. While he started his set slow, with a new and unreleased track, he built up steam and ended with the bass pounding and crowd amped right around 9 o'clock to a huge reaction and nearly full theater.
Skream: Skream is one of the pioneers of the bass heavy genre known as Dubstep. In recent years Dubstep has been rapidly gaining popularity among American youth. It is strange in sound and often times hardly considered music by fans of other genres. I can't say I absolutely enjoyed his set. It was the longest of all of the openers and it sounded like he had a few technical difficulties.
Dubstep isn't necessarily my cup of tea and, as hard as I tried, I just couldn't really get into it and had trouble understanding where he was going with the dark bass engulfed music. He would jump from style to style mid song leaving me feeling confused by the end. That being said, a good majority of the crowd seemed to really enjoy it and a guy sitting near me thought the set even merited a "Skream melted my face off" comment!
Michal Menert: Another member of Pretty Light's label; Michal Menert came out after Skream for a very short round of down-tempo electronic music. The Pretty Lights label is so fascinating to me because they do not stick to one genre. They are always fresh and reinvent their sounds constantly as not to bore the listeners. I can't really say much regarding Michal's set except that it was way too short. He ended with a beautiful number dedicated to anyone ever struck by love. He painted a great landscape of sound which made for a peaceful atmosphere and perfect transition into the main attraction of the night.
Pretty Lights: Derek Vincent Smith, who goes by the name "Pretty Lights" has been blowing up venues with hip hop inspired electronic music for the past few years. He is not only a hometown favorite, but an inspirational force for thousands of Colorado youth; myself included. Many of his fans have been riding with him since days of him playing house parties and small venues along the Front Range. After playing to a sold out crowd the night before at the Fillmore in Denver he was set to once again rock a sold-out Red Rocks.
The name "Pretty Lights" was taken from a Pink Floyd concert bill and judging by the stage set up he was absolutely going to live up to the moniker. He stood atop a elevated platform of LED screens with huge LED pillars surrounding the back of the stage. Lasers and clouds of smoke created an amazing effect that covered most of the seating area. Derek recently dropped the live drummer he has been known to tour with in order to control the production 100% and while the lack of a drummer took away from the live feel, overall it was a good choice as far as the visual aspect went.
It was obvious from the start that he loves every minute of playing to the home town crowd. He started his set with one of my favorite tracks; "Hot like Sauce" which warranted the huge reaction it got and set the tone for the entire night. The LED screens shuffled through images, words and psychedelic visualizations that mirrored what was going on with the music. Most of the set consisted of his older more down-tempo hip hop influenced tracks with one unreleased remix to keep the atmosphere feeling fresh. My favorite tracks from the night were his remix of the Steve Miller classic "Fly like an Eagle" and the Jazzy, horn heavy number; "I Can See it in Your Face." He was able to keep my attention for most of the night which is difficult for some electronic artists to do and I was more than thrilled with the set list and honestly excited that he avoided the dubstep sound fairly well since I had already gotten my fill of that from Skream.
The only downfall to the night was when it seemed as if he had a technical difficulty with his computer and ended up sitting in the dark with no music for a good five minutes during which time I could only assume he was in the middle of a reboot. Luckily not many people even seemed to notice; at first I even thought it was a part of the spectacle. That aside it was pretty cool standing at the top of the venue and seeing thousands of glowsticks being tossed to fill the stage area and lighting the floor particularly well.
He ended the night by dropping "filthy bass lines" as the kids say with the song "I know the Truth," and then going into a remix of Kanye West and Rhianna's "All of the lights." It was a very fitting song for him to remix as the over the top, and with that the stunning production came to an end.
As I had mentioned earlier it was beyond inspiring to see someone that grew up literally 10 minutes from me on that stage in front of 10,000 diehard fans. Pretty Lights has come so far in such a short amount of time and I can only imagine what he has in store for the future. It just goes to show that you don't have to follow the rules to make it in the music industry. He prides himself on his business model of giving out all of the Pretty Lights music for free. While this might seem to some like a silly idea, it seems to be working very well for him. It is certainly going to be a very hard for Smith, or anyone for that matter, to top the performance that took place both sonically and visually. As the beat faded out and he thanked everyone for all of the love and support I couldn't help but lean over to the girl sitting next to me and utter the words "Holy shit, would you just look at all of those Pretty Lights."
Energy: A
Sound: B
Musicianship: N/A
Stage Presence: B-
Set/Light Show: A+
Overall: A-
I rode my skateboard from school in 7th grade to my buddy Vince's house where he put on the song "Perfect Government" by NOFX and I was hooked. The next day I bought the album Duh by Lagwagon. The next year I saw Against Me! at the Starlight Theater in Fort Collins, my mom dropped me off. I've since devoted every waking hour to anything done with passion. My speakerbox bumps everything from Lil' Wayne to Pablo Casals. I was never very good at making music, but I am damn good at listening to it. I've been filling up yellow notepads with random thoughts and misspelled words for as long as I can remember. I enjoy whiskey of all sorts, Newport cigarettes and the company of my family. I've got an addiction to run-on sentences that I'll probably never cure. A solid handshake with a stranger who has become a friend over a few beers means the world to me. You'll often find me wide eyed and wandering with an ear to ear grin. I live for funky break beats and spreading the love.