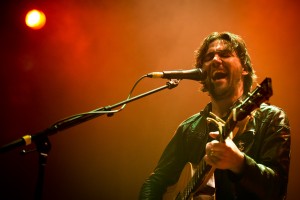 Photos by Ty Hyten
The Scene: Conor Oberst delivered a powerful performance at the Ogden Theater on Friday night, showcasing songs that spanned his songwriting career, from his most recent solo album, Salutations, to older songs from his time with his former band Bright Eyes. Fans having a drink before the show around the corner at Alpine Dog Brewery were in for a treat when Mr. Oberst himself walked around the corner and talked, took photos, and shook hands with fans for a few minutes before heading back to the venue. The crowd of mostly 20-somethings was thin when opener Tim Kasher took the stage, but had filled most of the Ogden's standing space by the time he had finished his set. While the crowd was quiet for much of the Kasher's set, they sang (while some screamed) Oberst's lyrics along with him.
Opener: Tim Kasher. Oberst's longtime friend, and Saddle Creek labelmate, opened the show playing songs from his record No Resolution, which he released in March. Kasher's acoustic songs about love and growing older were supported by cellist Megan Siebe, who also accompanied Kasher with beautiful vocal harmonies.  Keyboardist and trumpet player Patrick Newberry also graced the stage and even moved over to a drum set for a few of the songs. Toward the end of his set, Kasher thanked Oberst for bringing him on tour and said the crowd was the largest the band had played for and he appreciated how well the audience received his set.
Conor Oberst: Oberst opened his portion of the show with "Afterthought," a Country-tinged song off his most recent album that showed off the musicianship of his New York-based folk-rock backing band, The Felice Brothers. The band seemed practiced and sounded tight as they weaved through upbeat Country-Rock tunes like "Four Winds," which featured a howling fiddle crescendo, and slower numbers like "Cape Canaveral" off his 2008 self-titled solo record.
Oberst was all-business as he led his band from song-to-song, but later in the show he took time to recount a couple of stories about his music. When he moved from his acoustic guitar to the piano and harmonica, he told a story about the New York bar he frequents, St. Dymphna, before jumping into "Until St. Dymphna Kicks Us Out," from his 2016 album Ruminations. He also thanked Kasher for opening the show and recounted a story from his early touring days together when their car-top carrier was soaked in the rain and the band had to throw out all of their clothes.
The loudest crowd reactions came during the handful of Bright Eyes tunes Oberst peppered into his set, like "Something Vague," "Well Whiskey," "Southern State," and "Train Under Water." The arrangements played to the talents of his backing band and the crowd was eager to sing Oberst's poetic words back at the singer, sharing their love for the music as vocally as they could.
Oberst opened his encore alone, behind the piano with a harmonica around his neck, to sing a new song titled "No One is Going to Change." To wrap up his three-song encore, Oberst took a moment to address the political climate in America, which he said had "moved past surreal." He condemned the actions of the President, whom he refused to call out by name, and encouraged everyone to get outraged before launching into the raucous and chaotic "Napalm." The closer aptly summed up the feeling of the pre-Independence Day weekend show: "It's a quixotic quest on a hot summer's night / I got a fistful of fireworks / I'm gonna try and set things right / I lost my inhibition / I think I may have lost my wallet too / In this dying land of plenty / There's a whole lot of nothing to do"
Energy: B+
Musicianship: B
Sound: B
Stage Presence: A-
Set/Light Show: B-
Overall: B+