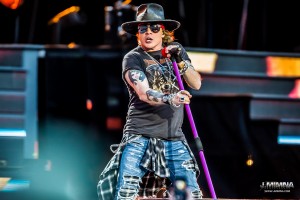 Photos by Jim Mimna
The Scene: Sports Authority Field at Mile High, from here on out Mile High, seemed quieter than a typical Bronco game as I walked quickly to the entrance.  Not a surprise when considering the show is on Wednesday night and people are most definitely fighting through the evening commute.  There was an interesting mix of long term Guns n' Roses fans, middle aged music fans, and suburbanites dressed for a night on the town.  There was gray hair, there were sparkly wigs, there were Slash look-a-likes.  The main demographic missing from the crowd was the coveted millennials, I don't think they appreciate G N' R in the same way those who grew up with them do.  I crossed paths with at least one Axl impersonator.   Weather was perfect for an evening of ear splitting Rock and Roll.
Opener: Sturgill Simpson.  I don't know what happened but I missed Sturgill Simpson despite getting to my seat just 10 minutes after the 7 pm start time listed on his website.  The schedule changed I suppose.  I've seen Sturgill before and I was really looking forward to seeing him on the big stage.  He puts on a great show, but I don't know how this one went unfortunately.
Guns N' Roses: I've never seen G N' R live.  I did however grow up with them as THE dominant Rock and Roll band in the world.  I have memories of waiting to see the premier of a new video on MTV when they used to create epic music videos for the tracks on Use Your Illusion I & II.  I remember how big a deal that double album release was.  I had high hopes for this show from a nostalgia perspective, and I was rewarded.
The show started out with an animation of a Mad Max style hot rod with the G N' R logo on the back.  The guns shoot and bass reverberates around the stadium like you're in a movie theater watching the latest Batman movie.  I overheard multiple people around me commenting on the bass and what that foreshadowed.  All of a sudden the car took off and the band came on blazing into "It's So Easy."  There was Slash in the trademark all black rocker outfit, aviator sunglasses, hair all over the place and that hat…that Slash hat.  There was Axl Rose, looking like he did thirty years ago adorned in jewelry, bandana, flannel, hat and mirrored aviators.  There was Duff, rocking the bass, with his can't give two s*%&s look.  Dizzy Reed, a Denver native according to Axl, played keys and percussion and has been with the band since 1990.  Richard Fortus was on rhythm guitar.   Frank Ferrer set a blistering tempo on drums.  Melissa Reese was the second keyboardist.
Watching these guys, who once defined American 80's rock and roll excess, it is hard to imagine they're in their 50's.  The energy they put out, running all over the stage, jumping off risers, spinning while jamming out guitar solos, is impressive and infectious.   All told the band played over three hours and through thirty songs.  Axl can still sing those sustained screeches that made him famous, albeit at an octave or so lower.
The early setlist included some favorites of mine like "It's So Easy," "Mr. Brownstone," "Welcome to the Jungle" and G N R's blistering cover of Wings' "Live and Let Die."  It also had a few I didn't care for like "Chinese Democracy" and "Double Talkin' Jive."  When Duff stepped up to the mic to lead a cover of "Attitude" by The Misfits, I assumed it would be an early night for me.
I couldn't have been more wrong.  When the eerie sounding intro of "Civil War" started up I became more interested and that didn't stop until I was leaving the stadium twelve songs later.  Going from "Sweet Child O' Mine," to "Used To Love Her," to Pink Floyd's "Wish You Were Here," to "November Rain" to covers of "Black Hole Sun" and "Knockin' On Heaven's Door" and finally  to "Nightrain" reminded me this is the band that ruled the world in the late 80's/early 90's.
Hearing classic after G N' R classic reminded me how disappointed I was back in 1992 when I had to listen to friends talk about the incredible "Day On the Green" show where Metallica and G N' R shared top billing at the Oakland Coliseum.  I was fifteen and I honestly think that is why I wanted to go to this show, to see what I had missed 25 years ago.
I feel rewarded.  It is not all that often you can see a band that has refined their sound and show to the extent G N'R has.  While they may not still be writing anthems like show closer "Paradise City" or "Welcome To The Jungle," they sure can perform them and delight their fans with a true Rock and Roll show.
Energy: A
Musicianship: A
Sound: A
Stage Presence: A
Set/Light Show: B+
Overall: A