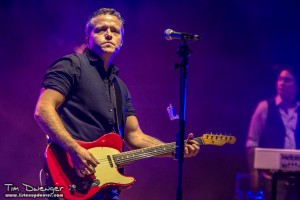 Photos by Tim Dwenger
The Scene: For the last 10 years or so, when Jason Isbell comes to town, I don't miss the show and Thursday was no exception.  We climbed the stairs early and got seats in prime listening space and settled down to wait for the main event.  The rocks filled in quickly with a wide variety of fans; there were Country leaning cowboy types, hipsters, buttoned up 9 to 5ers, and more than a small contingent of Punk fans waiting on the second opener Frank Turner to soothe their souls.  All in all it was about the perfect night in Morrison as the diverse line-up pleased the masses.
Opener: Amanda Shires. Amanda Shires was a very fitting opener for her husband on Thursday night and her Country laced Rock struck a chord with fans.  She wailed on the fiddle and, about four songs into the set, brought out Isbell to add guitar and backing vocals to the rest of her 40 minute set.  The pair have obvious chemistry both musically and otherwise, and it was great to see them collaborating on her material rather than his.
Opener: Frank Turner & The Sleeping Souls: While I'll admit that Frank Turner & The Sleeping Souls seemed like a bit of an odd choice as the opener for Jason Isbell, they did bring a ton of energy and a bunch of their own fans with them on Thursday.  After opening with "I Am Disappeared" the set was peppered with fan favorites like "Get Better," "Recovery," and "I Still Believe."  Turner's brand of feel-good English Punk was infectious and there's no doubt that he won over a few fans before he closed out his portion of the evening with "Photosynthesis" and a heartfelt Red Rocks sing-along on the line "but most of all I will not grow up!"
Jason Isbell & The 400 Unit: In the interest of full disclosure, I've been eagerly anticipating this show all summer so, when Thursday arrived, I could hardly contain my excitement.  I've been listening to Isbell's new record, The Nashville Sound, all summer (so much so that my 4 year-old daughter knows just about all songs by heart) so when he opened the show with the psychedelic, and Pink Floyd influenced, "Anxiety" followed by "Hope The High Road" I was ready.
Early on in the show it was apparent that the more Rock & Roll vibe of The Nashville Sound had transferred to Isbell's live show as well.  While last year's show was obviously more focused on the acoustic, singer-songwriter, vibe of Something More Than Free and Southeastern (Isbell's previous two records) this year harkened back to Isbell's roots as a rocker.  He even dug up "Go It Alone" from Here We Rest to help set the pace early on.  The trio of "Decoration Day," "White Man's World," and "Codeine" kept the energy up before a brief respite in "Chaos and Clothes" and then "Cumberland Gap" got fists pumping again.
One thing was very apparent as the set entered it's final third.  Jason Isbell is a hell of a diverse songwriter and his band has no problem keeping step with him no matter which way he veers.  Despite all the focus on The Nashville Sound early on, the last six songs of the set featured Something More Than Free and Southeastern gems like "Speed Trap Town," "Flying Over Water," "Stockholm," and, of course, a typically beautiful take on "Cover Me Up."
Isbell and his band closed things out with the emotionally wrenching "If We Were Vampires" from his most recent record and I was yet again struck by this man's ability to conjure up images and feelings with the stroke of a pen.  Though he dropped the frequent closer "Never Gonna Change" from the setlist, I have to imagine that he wanted to leave the Rocks bathed in the raw emotion of "Vampires" (if you haven't listened to this tune, and you are in a relationship, I suggest you do so ASAP.)  Well done Mr. Isbell, well done.
Energy: A
Musicianship: A
Sound: B+
Stage Presence: A-
Set/Light Show: B
Overall: A-
Music has always been a part of my life. It probably all started listening to old Grateful Dead, Peter Paul & Mary, and Simon & Garfunkel records that my parents had, but it wasn't long before they were taking me to concerts like Starship, Crosby, Stills & Nash, and Huey Lewis & The News. I got the bug to write about music after reviewing an Eric Clapton concert for a creative writing project in high school but didn't really take it up seriously until 2002. Since then I have published countless articles in The Marquee Magazine and done some work for Jambase.com, SPIN Magazine, and various other outlets. I started Listen Up Denver! as a way to share the music information that is constantly spilling out of my head with people who care. Please enjoy!