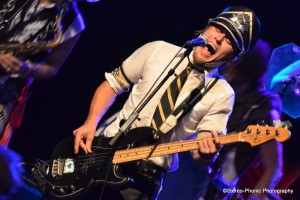 All Photos by Johne Edge
The Scene: Less than an hour away from Denver is the Aggie Theater in Fort Collins.  The 105 year old theater can be a little warm in the summer, but the beer is cold and they know how to book the bands.  For a venue with a capacity of about 650 people ,shoulder to shoulder, they  still manage to bring national acts like Michael Franti and Spearhead, Slightly Stoopid, and Social Distortion to Northern Colorado.
When we arrived at the theatre it was just after 9 PM and the place was quiet, with only a few dozen folks milling about.  While many took the opportunity to enjoy a few final moments of calm before the storm, others visited friendly March Fourth Marching Band's bus driver and merchandiser, Alex.  M4 (as the band is often referred to as) has the usual collection of CDs, posters, and t-shirts for sale, but they also bring beautiful hand crafted patches, jewelry, and hats.  Their talent goes well beyond the stage in many ways as I discovered.  In addition to crafting their own merchandise,  the band also creates their own costumes, stilts, and drum harnesses.
Colorado is like a second home to this Portland, Oregon band, having already played ten shows here this year.  It is for this reason that I was surprised, and a little worried, about the small attendance inside the theatre.  However, things quickly perked up as M4 marched outside  around the Aggie and onto College Avenue.  The band entered the theatre and took a short intermission to allow the large crowd that had followed them to buy tickets and get situated it the room.
During the break I had an opportunity to speak with several people about what drew them to the show.  Local Fort Collins couple and prior high school marching band members, Ann and Mike, said that they had seen a marching band play the Tour de Fat a few years back.  They weren't sure if M4 was the same band (they likely were, since M4 has toured with the New Belgium festival several times in the past), but they were impressed with energy of that experience and were hoping to get the same out of this show.  Patre and Emon, from Little Rock, Arkansas, were in town for a race when they saw that March Fourth was playing.  Having just experienced M4 at Wakarusa Music Festival this summer, they knew they were in for a  treat.  And then I met Stephanie, an avid follower of March Fourth since the days she lived in the Pacific Northwest years ago.  I was drawn to  her handmade dress (a tribute to M4, featuring an elephant on stilts) and I soon discovered that she also devoted her left shoulder to the same icon in the form of a tattoo.  Stephanie lives in Laramie, Wyoming and said that she has been following  M4 for the last 5 years.  I really enjoyed meeting the fans, both new and old, and had a feeling that March Fourth was not going to disappoint anyone.
March Fourth Marching Band: March Fourth Marching Band is not the type of marching band that would have been picked on in an 80's John Hughes movie.  Gone (if they ever existed) are the geeky braces and awkwardness, replaced with perfectly manicured mustaches and punk rock swagger.  As previously mentioned, the band got the party started out in front of the theatre but they did not stop there.
M4 played two sets, acting as their own opening band, but it didn't take long to warm up the crowd as they dove right into some new material to be released on their upcoming album.  Although it is still unnamed, the song titles are not. " Oak St. Ska," "Rose City Strut," and "Delhi Belly" are just a few and they represent the diversity of this band and their sound perfectly.  If you close your eyes, their music can carry you from the streets of New Orleans to the streets of Rio de Janeiro and everywhere in between .  Their dynamic percussion, plus driving brass, plus steady electric bass, equals a dramatic showcase of sound and I couldn't  keep my eyes closed for long as their music was the perfect soundtrack for their visual splendors.
Stilt walkers and dancing girls complemented the band's boisterous beats.  The only thing that could have topped the hoop and pole dancing would have been fire eating and sword swallowers (perhaps they are open to the idea, as I know that they recently held open auditions).  As I reveled in the glory of  the performance, I couldn't help but think that if Houdini were alive today I believe that he would want to hire M4 as the musical accompaniment to his theatrical escape acts.
Make sure you don't miss M4 as they come marching back into Denver on Saturday, October 22nd.  They will be kicking off their national CD release tour in Colorado at the Gothic.  Don't let the term "marching band" fool you.  "We're pretty free-spirited," says bandleader and bassist John Averill, "and once people see us, the whole uptight military-esque stigma of 'marching band' kind of flies out the window."
Energy: A+
Sound: B+
Musicianship: A
Stage Presence: A
Set / Light show: C
Overall :  A