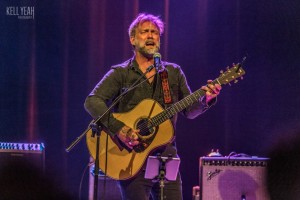 Photos by Kelly Hueseman
Last Friday night, Anders Osborne stopped into The Bluebird Theater on historic Colfax Avenue for an intimate solo acoustic show.  Lucky for us, Ryan Montbleau was along for the ride to open the show.  As the singer-songwriter from Boston stepped up to the microphone and began his opening set, the lights barely rose and the mood stayed dim and intimate. It wasn't until his set ended, and the house lights came on, that I could see how full the theater had gotten. Montbleau's variety of tender, emotionally-driven songs were driven by expressive guitar-playing. Toward the end of his set, Montbleau reminded the crowd that Osborne had produced his most recent studio album, I Was Just Leaving, and expressed his opinion that it was his best album yet.
Typically accompanied by a bold backing band, an Anders Osborne show is usually loud. As in, so loud you wake up the following morning and your ears are still ringing. This show from Anders would be different – with no drums, no bass, and no one except Anders Osborne. Looking strong and happy to be playing, Anders stood at the front of the stage with two amps behind him – a bass and a guitar amp, their sound controlled by pedals at Anders' feet. While he played the same songs as usual, it sounded like a new Anders Osborne. It was awesome to clearly hear the melody and emotion behind his music and Anders' soulful spirit came through purely in this unaccompanied setting. The intimate confines of The Bluebird Theater were the perfect choice for this show, and Anders' interaction with the local Denver crowd made the night feel that much more special.
I really enjoyed the show and loved hearing Anders in this peeled-back way. The songs still had that rugged, raging, and explosive sound to them, but the difference was how raw and vulnerable they sounded. Even when joined by other guitar players sitting in throughout the night, Anders was able to maintain his emotional connection with each song, and the crowd could feel it.
I had seen Anders Osborne a few other times here in Colorado, including the first time I saw him perform at the 2011 Telluride Blues & Brews Festival, which sealed the deal for me as a fan. After seeing him a handful of times, I can say emphatically that he keeps getting better and better. Hopefully we'll keep getting the opportunity to join Anders in this solo acoustic setting, as it really suits his music, his spirit, and his fans.
After growing up in Missouri listening to vintage records of The Allman Brothers, Carly Simon, and Stevie Ray Vaughan, I was hooked to the live music scene and the contagious sounds of guitar licks and soulful lyrics. After moving to Colorado, I've been contributing to Listen Up Denver! as a freelance photographer and writer. I've also started a side project, KellYeah Photography, which gives me the opportunity to pair my passion for live music with my creativity and love of being around people. Aside from photography and writing, I'm an avid hiker of Colorado 14ers and a beer enthusiast.