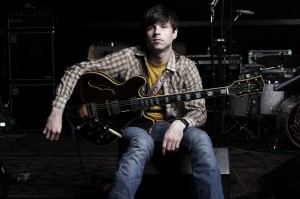 Photo by Mark Abrahams
The Scene: When we pulled up to the Denver Civic Theatre on the 700 block of Santa Fe, the line, which had moments ago stretched around the block, was quickly snaking into the building.  Surprisingly, the will-call process was smooth, organized, and didn't delay things at all.  As I made my way through the lobby of exposed brick and steel beams, I was immediately struck by the fact that there hadn't been a sea of people outside trying to either talk me out of my ticket, or sell me one at an exorbitant rate.  Don't get me wrong, there were a few folks looking for an extra, and I'm not sure what the situation was as it got closer to show time, but from where I stood it looked like the short notice and will-call only setup for this show had actually deterred some scalpers.
As I turned the corner into the theatre, it was clear that there wasn't a bad seat in the house.  There might have been 20 rows of seats that flowed straight back from the stage so that even the far left and far right weren't too far off in the wings.  Just the same we picked out some seats right in the middle and headed back out into the lobby to wait and suck down a beer or two.  The crowd of 30 and 40 somethings around the bar and in the rest of the theatre were buzzing excitedly about the last time they saw Ryan Adams perform live and what they thought the show would be like tonight.  There were some who thought maybe he'd just run through his upcoming album and say goodnight, and there were others who seemed to believe he'd have The Cardinals with him.  While it turned out neither guess was accurate, it was fun to speculate and as 10 o'clock drew near the lights in lobby blinked signaling that we should all head toward our seats.  Personally my excitement reached a fever pitch when I realized that this performance would be Adams first public headlining gig in the US since he "retired" from music back in 2009.  Yes, he played a benefit or two, opened for Emmylou Harris, and did a short European tour, but we were going to be the first ones in the States to get a full set from Ryan Adams in well over two years.
It is important to note here that for some unkown reason the staff at the Theatre did not have the AC running for the duration of the evening and at some point a friend of mine looked at the thermostat and let me know it was 80 degrees in the room.  It's a testament to Adam's riveting performance that the entire room wasn't sound asleep a few songs into the set.
Ryan Adams:  At 10 o'clock sharp the speakers crackled to life with a humorous announcement that threatened that the "ushers will destroy you and burn you in a sacrificial ritual if you use your cell phones or cameras during the performance."  Then, about ten minutes later, the lights went down and Adams stepped out of the shadows all alone, clutching a red, white, and blue acoustic guitar and was met with a standing ovation.  After some brief banter with the crowd, including a "that's what she said" joke, we settled into some music with the Heartbreaker gem "Oh My Sweet Carolina."
Throughout the night, the theatre was so quiet you could hear a pin drop as every ear in the room hung on Adams every breath.  Between songs, applause and a few shouted requests filled the empty air, but when he was playing everyone sat in rapt silence.  Adams seemed to relish the silence and seemed to play as if he was alone in his living room.  He sat almost a foot back from the microphone and the room was small enough that we probably could have heard everything clearly without any amplification at all.  His delicate falsetto sent chills down my spine and with only a guitar to back him, the vocals stood out crystal clear.
The 26 song performance featured a healthy dose of tracks from Heartbreaker including "My Winding Wheel," "Damn, Sam," and "Amy" but it Adams newest songs that I was most interested to hear last night.  The new material did not disappoint and showed that he is still every bit the songwriter that we all fell in love with.  Early in the set he ran through the title track to his upcoming LP Ashes & Fire, and as the night went on he expertly sprinkled beautifully crafted songs like "Invisible Riverside," "Dirty Rain," and the new albums first single "Lucky Now," in amongst classics like "Let It Ride," "Desire," and "Firecracker."
At a couple of points during the set, Adams set aside his guitar and took a seat an upright piano that faced the back corner of the stage.  When he first made the move the crowd cheered and he stopped, look at us quite seriously, and said "you haven't heard me play yet."  This kind of self-deprecating humor peppered Adams between song banter throughout the night and endeared him even more to the adoring crowd.   When he coaxed the first notes of "Sweet Lil Gal" out of the piano and that rich sound filled the small room, a few audible sighs were heard and when the song ended, I personally couldn't wait for another piano tune.  A little later in the set, I was thrilled when he again made the move to the piano for beautiful takes on "New York, New York" and "Blue Hotel," before picking up his guitar again and breaking into "To By Young (Is To Be Sad, Is To Be High)" which turned out to be one of the evenings most upbeat numbers.
At about 10 minutes to midnight, Adams serenaded us with the country flavors of "Carolina Rain" and then thanked us all for coming.  Before walking off stage he muttered something about us clapping and him coming right back to play some more songs and then told us he was going to take a break but would be back in 10 minutes to play some more.  We were left wondering if Adams was actually going to do an entire second set, or if this was just his strange way to do an encore.  As I left the theatre and headed for the bathroom Adams was leaning over the railing in the lobby talking to a group of fans below.  He explained that he was about to head back out on stage, and that he just had to get some more tea.
As I waited in line for the bathroom, I could help but think about Neil Young.  Not because Adams necessarily sounds like Neil Young, but because of the similar career trajectory the two seem to be on.  Both men are one of the best songwriters of their generation, they have both dealt with substance abuse issues, they have made a name for themselves with several different bands, they have ventured off in critically dangerous creative directions, and yet they seem at their best when on their own with an acoustic guitar or piano.  It's a rare breed of musician that truly shines in a solo spotlight and having had the privilege to see both of these men perform on their own, I can tell you that Adams and Young are in the same league.  You don't have to agree with me, but take some time and think about it.
After we all got settled again, Adams treated us to a brief six song second set, or extended encore, that kicked off with two Whiskeytown songs, "Jacksonville Skyline" and "16 Days," served up back to back.  A stripped down take on "Rescue Blues," was the only song in the second part of the show that featured the piano and then Adams closed the show with two crowd pleasers in "Two" and "Come Pick Me Up."  He humbly thanked us all, told us he was off to get something to eat, and vanished.
Whatever people had come out last night expecting, I'm pretty much sure that they left amazed and thrilled with what they had witnessed.  It was a very intimate experience with an enormously talented artist, and an evening that won't soon be forgotten.
Set List: Oh My Sweet Carolina, Ashes and Fire, My Winding Wheel, If I Am A Stranger, Damn, Sam (I Love A Woman That Rains), Invisible Riverside, Let It Ride, Sweet Little Gal*, Desire, Dirty Rain, Everybody Knows, Please Don't Let Me Go, Lucky Now, Amy, New York New York*, Blue Hotel*, To Be Young (Is To Be Sad, Is To Be High), Firecracker, English Girl Approximately, Carolina Rain  Encore: Jacksonville Skyline, 16 Days, This House Is Not For Sale, Rescue Blues*, Two, Come Pick Me Up   
* – Ryan Adams on Piano
Download This Show Over At "That's The Thing About That"
Energy: A+
Sound: A+
Musicianship: A
Stage Presence: A+
Set / Light show: C-
Overall :  A+
Music has always been a part of my life. It probably all started listening to old Grateful Dead, Peter Paul & Mary, and Simon & Garfunkel records that my parents had, but it wasn't long before they were taking me to concerts like Starship, Crosby, Stills & Nash, and Huey Lewis & The News. I got the bug to write about music after reviewing an Eric Clapton concert for a creative writing project in high school but didn't really take it up seriously until 2002. Since then I have published countless articles in The Marquee Magazine and done some work for Jambase.com, SPIN Magazine, and various other outlets. I started Listen Up Denver! as a way to share the music information that is constantly spilling out of my head with people who care. Please enjoy!