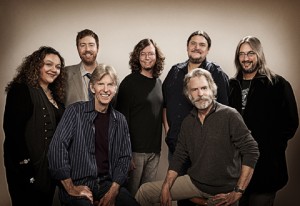 Why You Should Go:  With Phil Lesh and Bob Weir at the helm of the best post-Grateful Dead era project for them to date, fans can expect Furthur to push the musical envelope with jaw-dropping improvisations and loving renditions of Grateful Dead classics, with an all-star band that includes keyboardist Jeff Chimenti (RatDog), drummer Joe Russo (Benevento – Russo Duo), guitarist John Kadlecik (Dark Star Orchestra), and vocalists Sunshine Becker and Jeff Pehrson.
New and old fans of the Grateful Dead alike will be entranced as Phil & Bob take the musical journey "furthur", exploring some of the Grateful Dead's most beloved songs in an evening that promises to keep the feet stomping and the bodies shaking.
For a much, much better vidoe of this band in action at Bob Weir's TRI Studios click here.
Venue:
Red Rocks Amphitheatre, 18300 West Alameda Parkway, Morrison, CO 80465 – (720) 865-2494
Doors:
Fri & Sat – 6:00 PM
Sunday – 3:30 PM
*Price:
GA $54.50
Res $59.50
DoS $65.00
PURCHASE TICKETS
*All times and prices are gathered from other sources and I am not responsible for mistakes or inconsistencies. They are intended only as guidelines. Please, always call the venue if you desire the most accurate information possible.