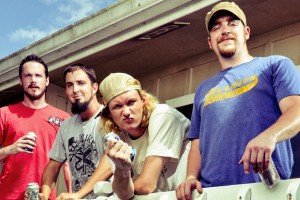 What do you get when you cross influences like Sublime, early Metallica, and Bob Marley?  A loud ruckus, or a ballyhoo, if you will….
Listen Up Denver! recently had the opportunity to catch up with Scott Vandrey  from Ballyhoo!.  Also known as Blaze, he is the man responsible for many miscellaneous components that go into their sound, including turn tables, keyboards, backing vocals and percussion.
Listen Up Denver:  So Scott, where did I catch you today?  What are you up to?
Scott Vandrey: We are off and we are home.  You caught us on a very rare and very fantastic day.  We played in New York City last night and we're playing in DC tomorrow and we have the day off today.  So we all get to hang out with our families and stay in our own beds for the night and it's a beautiful thing.
LUD:  Nice, home is Maryland, right?
SV:  Yes, just north of Baltimore.  I got to hang out with my brother and my two nephews and had a grand old time.  Those two wore me out.
LUD:  I see that you are coming back to the Mile High City really soon.  I just caught you at the end of June playing with The Bastard Suns at the Bluebird Theater.  Do you ever get much time off from touring?
SV:  A little bit…we usually take off time around the holidays….and one or two months here and there.  But for the most part we need to get the music out there as much as possible.   That's certainly what this tour is all about….I guess that's what all tours are about.  But this tour in particular, going out with Pepper and The Expendables and getting as much exposure as we can out of it.
LUD:  For sure!   I know that your recent album, Daydreams is you first release on the LAW Records label.  What can our readers expect from the new album?
SV:  It's a lot more rock…but there's still some groovy reggae tunes in there.  Overall, it's more of an alternative rock feel.  The sound has matured a little bit since "Do It For the Money." The band plays a lot tighter together….like you were saying, we tour a lot so as players we've gotten more comfortable with our instruments and more comfortable playing together so I think our sound is tighter.
LUD:  You know, when you say you feel like the sound is a lot more mature, that kind of reminds me of how some of the new album's songs, like "Evil Penguin" and "Say I'm Wrong" seem to have a more serious tone and a little bit of a change from Ballyhoo's earlier party anthems like "Somewhere Tropical" and "The Front Porch."  What do you think seems to be moving the band in that direction both lyrically and musically?
SV:  I'm not sure if any particular thing has been moving us toward it, except growth.  We've never said, "okay, we want to move in this direction," it's just the way it's gone.  As far as the more rock side of it, I think we like to rock out on stage and we've been playing out live so often it's more fun for us to really get into it….go all over the place onstage.  I think our songwriting has grown around that…we want to write rock so we can rock out.
LUD:  That's a good point!  I understand that you recorded your first music video ever for "Say I'm Wrong," and it released earlier this month.  Tell us a little bit about that experience.
SV:  It was interesting….it was totally new for us, like you said, it was our first time.  It was a fun day.  We were down in Coco Beach, Florida.  Basically, we rented some scooters and rode around a beach town all day and did a live shoot right there on the beach.  We had some nice model…model actresses come and hang out with us …and uh, that's always fun… a good way to pick up chicks…just kidding.  Yeah, it was a beautiful day.  It was kind of funny seeing the progression…you might even be able to see it in the video a little bit…from the time we started shooting to the scene at the end, you can see some of us getting progressively redder.  We spent all day in the sun!
LUD:  Oh no!  I guess I'll have to pay attention to that in the video.  So what do you think your next single might be, "The Getaway" or "Last Night."?
SV:  We were leaning towards "Last Night," and, in fact, that was originally going to be the first single.  I think we're going to see what iTunes has to say about it, basically see what people are buying….you know, the people that basically going through and listen to all the individual songs and just buy one or two tracks as opposed to buying the whole album.  See what the fans are thinking…that should be the next song.
LUD:  Pepper started LAW Records back in 2007.  How is it playing on the "Last Calls & Liabilities Tour" in support of the owners of the label you appear on?
SV:  It's been fun.  For one we're playing in front of bigger crowds than we draw on our own, obviously.  It's been fun playing in front of bigger crowds and the Pepper guys are all really nice guys…super fun to hang out with on and off stage.  And it's mutually beneficial for us…obviously we're getting exposure but the more money we make, the more money they make.  They've been doing a great job pushing us with their fans as well.  So it's a win-win situation for both of us, for sure.
LUD:  A good way to build a fan base, no doubt.  So I know you're no strangers to Colorado and that you've played here several times in the last couple of years.  What do you enjoy most about our state?
SV:  We love Denver!  In fact if you go through any of our interviews from other cities, they always ask us to list some of our favorite places to visit and Denver is always on that list.  Good people and we always pull good crowds and there's something about Colorado that's legal that's just isn't legal in a lot of other places.  We enjoy that. Oh, and the weather's beautiful!  And the scenery's beautiful!   But yeah…very generous fans, for sure.
LUD:  Well, thank you.  What do you think our readers can look forward to from your upcoming October 3rd set at the Ogden?
SV:  You can look forward to a lot of new stuff.  On this tour we have a pretty short set…we're the first of three bands.  We throw in a couple of the classics that we know everybody likes and then we push a lot of the new stuff as well.  We're really happy with how it came out and obviously trying to push the record sales.  We'll be hanging around the merch table all night, so come say "what's up."
Check out Ballyhoo's latest album, Daydreams, on iTunes or at www.ballyhoorocks.com.   Then come out to the Ogden on October 3rd and catch them live with Pepper and The Expendables.