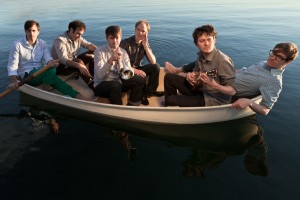 Photo By Kristianna Smith
The Scene: Fixed gear bicycles and Mo-Ped scooters lined the sidewalk outside the Fillmore Auditorium this past Wednesday night. A crowd of well dressed twenty somethings queued up early to discuss world affairs, Faulkner, and other fancy topics I'm not too well versed on. A rather large gathering for a mid-week show by an obscure band at one of the larger venues in town was certainly not what I expected. The venue filled steadily until a little after 9, but still managed to retain plenty of room for all the eclectic styles of dance to be displayed.
Beirut: The occasion was a concert by the band Beirut.  The project is the brain child of New Mexico native Zach Condon and features a melodic fusion of Balkan folk and Indie-Pop with a side of Gypsy Jazz. It is a strange amalgamation of sounds and instruments ranging from Ukulele to Tuba. Condon is both a visionary and virtuoso of noise. His operatic voice and skilled instrumentation echoed gracefully through the hall. The band consisted of at least 10 different instruments, not all played at once of course. Condon himself not only led the horn section with his trumpet, but shuffled from piano to ukulele on multiple occasions. A task not easily done being that each of those instruments are completely different in theory.
The set started passionately and vibrantly with trumpet blasts accompanied by an accordion that kept the sound true to the bands European influences.  On the floor in the back of the auditorium, ballroom dancing as well as many other types of dance I am not too familiar with took over the hardwoods. It reminded me of a scene out of Beauty and the Beast or some other heartfelt classic. It was a sight you really had to be there to truly appreciate. I vowed to myself that I will be signing up for formal dance lessons within the next week or two so that the next time these guys come around I am able to fully participate in the festivities.
They worked their way through several crowd favorites including "Elephant Gun," "Sunday Smile," and "Postcards from Italy."  The set included well over 15 songs each of which unique and enthralling in every way possible. From sing-alongs to a solemn, slow number with just a spotlight on Condon as he played the piano, the bands range and musical prowess was more than apparent. "Nantes" was by far my favorite number of the entire night as it was the song I first heard by Beirut over a year ago, and it still rings true to so many aspects of my life.
Although the set stretched for nearly an hour, it ended far too soon. No one was ready for the night to end and the raucous applause did not stop until the band returned to the stage for more. The double encore added at least another 30 minutes of music including two more very well received songs, "My Night with the Prostitute from Marseille"  and the Spanish influenced "Gulag Orkestar."
While the encore had started with a solo Ukulele performance, it ended with a monstrous trumpet solo. After signing a few set lists and handing them out, Condon left the stage and the house lights came up right around 10:40. Beirut had picked me up out of Denver, Colorado and transported me to an exotic concert hall somewhere deep in the Balkans. I left the Fillmore on Wednesday with some strange urge to purchase a Mo-Ped scooter, several tight flannel shirts and the first plane ticket to Eastern Europe I could find. It takes a lot for music to move me so profoundly and I hope Condon and bandmates make a swift return to the Mile High City. Next time I will be fully prepared with a whole arsenal of ballroom dance techniques.
Energy: B
Sound: A
Musicianship: A+
Stage presence: C
Set light show: C
Overall: B

I rode my skateboard from school in 7th grade to my buddy Vince's house where he put on the song "Perfect Government" by NOFX and I was hooked. The next day I bought the album Duh by Lagwagon. The next year I saw Against Me! at the Starlight Theater in Fort Collins, my mom dropped me off. I've since devoted every waking hour to anything done with passion. My speakerbox bumps everything from Lil' Wayne to Pablo Casals. I was never very good at making music, but I am damn good at listening to it. I've been filling up yellow notepads with random thoughts and misspelled words for as long as I can remember. I enjoy whiskey of all sorts, Newport cigarettes and the company of my family. I've got an addiction to run-on sentences that I'll probably never cure. A solid handshake with a stranger who has become a friend over a few beers means the world to me. You'll often find me wide eyed and wandering with an ear to ear grin. I live for funky break beats and spreading the love.